Going Paperless: Profit Doesn't Grow on Trees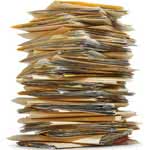 It's estimated that American companies spend $360 to file, find, and reproduce just one lost document. Additionally, most businesses reportedly misfiling nearly 20 percent of all records, costing $14,000 in lost productivity per worker in the process of searching for core data. No wonder companies are adopting the "Paperless Office." After all, profit doesn't grow on trees.
Analysts estimate that a typical company can cut paper consumption by a quarter when transitioning to electronic content and Enterprise Content Management (ECM). This is critical for streamlining expenses and complying with the groundswell of support for green initiatives. In addition to eliminating the cost of paper itself, ECM significantly cuts paper-related costs, such as ink and toner. Energy is saved and carbon footprints are reduced by cutting usage of high-speed and high-energy printers–not to mention the savings in fuel costs with the elimination of document deliveries/couriers.
Want more on savings? It's estimated that a paper statement costs most companies $0.75 to print and mail. Compare this with the cost of $15 for each paperless statement. Obviously this reduction is compounded as you expand into other types of content. Environmental groups report a typical tree produces 17 reams of paper, resulting in 110 lbs. of carbon dioxide released into the atmosphere. Additionally, paperless adoption drastically reduces the carbon footprint of businesses.
Going paperless can offer great ROIs and benefits. But it's key to select a partner that not only helps translate documents into electronic format via high-speed scanning, but also manages the entire workflow process. Enterprise Content Management is no easy task, but with the right tools, it offers the highest levels of cost savings and green benefits.
The Features to Seek Out
To reap the best results, content management tools must include such features as a central repository and automated workflow. The biggest requirement is a central repository for scanned information. Without a readily-accessible, central location to store content, you're still faced with time wasted searching for data. And this goes beyond word documents. A true ECM categorizes and stores each piece of data relevant to a specific project or process–from spreadsheets and presentations to CAD drawings and office software documents. Of course, this repository must be easily accessible from any location–but secure enough to meet stringent compliance and security requirements.
Another top feature is a powerful search capability. Once the data is safely placed in a repository, users then must have a means to quickly retrieve this data easily via keyword search. Finding the documents necessary for meetings, reports and audits is an essential part of the paperless office process–driving real-time and accurate decision-making, as well as significant cost and time savings.
A true content management system also adds the power of Automated Workflow: Visually tracking straight-line processes, analyzing project progress with business intelligence–and even tracking employee performance to identify bottlenecks–helps move the project forward.
Most importantly, automated workflow identifies gaps and project delays, allowing managers and supervisors to better expedite projects.
Finally, the power of advanced analytics makes today's ECM a true business productivity solution. A robust ECM tool lets users run customized reports on individuals, folders and clients. By visually tracking all activity in the automated workflow process, the system can then produce high-level business reports to support more powerful business decisions.
It's Not a Mirage
Paperless office savings go beyond money saved by removing paper. It drives time and efficiency savings, information access, compliance and allows companies to meet green initiatives.
While it may not be easy to get there, the paperless office is attainable and real. It is time for organizations–small and large–to get on board. After all, profit doesn't grow on trees.
Looking for more information on the top ECM solutions? Check out our content management resource page to find blog posts, premium content and product reviews on the leading CMS software solutions. Ready to purchase? Download our free Top 10 Enterprise Content Software report and compare top products by pricing and key capabilities.