2015's Top 5 Enterprise Content Management Vendors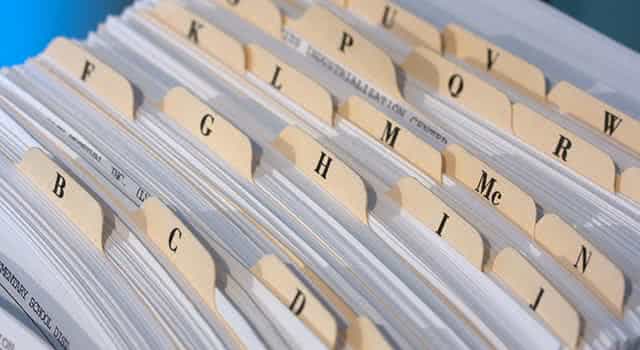 We've all lost important documents. Sometimes they land in the wrong folder. Other times they become a small collection among hundreds of Google Docs that are created and quickly forgotten. The age-old folder system often fails, and sometimes our hodgepodge of notes don't fit just one folder.
By using a product from a leading enterprise content management vendor (ECM), your company will never lose a document again. The software solution is an intranet that keeps all of your files and storage in one space, often synced on the cloud for your global offices. With enterprise content management, your team can communicate better and stay on the same page without wasting breath.
To help clean up your office, peruse this list of the industry's leading five enterprise content management vendors. The solutions range from the robust to the minimalistic, ensuring at least one of these five is perfect for your company.

1. LaserFiche: For the Organizer

Laserfiche provides an eye-catching guarantee: never lose a document again. This luxury is invaluable with medium-sizes businesses, or even enterprises, who loathe the experience of dropping document after document into the shared network's abyss. Laserfiche is a fully equipped ECM suite that includes document management, business process animation and industry-specific tools for government agencies, educational services and financial providers.

2. M-Files: For the Collector


M-Files is so intuitive with document management that you don't need to worry about organization. M-Files includes intelligent search, using both metadata and full text search. M-Files sorts documents intuitively by tags and metadata — not folders — creating an intuitive way to navigate that is closer to the way you really think.
This robust solution also includes version control, mobile access and enterprise-grade integration tools, particularly with Windows Explorer and other Microsoft tools.

3. Evernote Business: For the Easygoing

It's easy to be sold on Evernote. The personal edition already organizes our chaotic lives, compiling snippets that are random and useless on their own yet somehow become contextualized in Evernote. The business edition provides the same tools as the traditional Evernote, with the addition of a collaborative workspace for teams.
The business edition includes company knowledge control (so valuable information doesn't get buried), shared notebooks, secure TLS/SSL encryption, varied search options (including within handwritten text and images) and a custom setup with premium expert support.

4. Alfresco One: For the Big Shot

Alfresco manages all content types, from a simple word document to a large, HD video file. The solution is built on an open source platform for enhanced scalability. Alfresco can handle hundreds of thousands of documents, accessible through advanced search. The robust application also includes detailed versioning control and collaboration tools such as dedicated projected areas with wikis, forums, links, blogs and lists.
In addition to standard ECM, Alfresco has business process management, records management, case management and Outlook integration.

5. Liferay Portal: For the Philanthropist

We interviewed Liferay Portal at the beginning of the year, and needless to say, we became instant fans. Liferay is not only a powerful tool for both employees and customers, but the company itself runs without VC funding using an open source framework. Besides its software, buying Liferay supports its passionate user community and nonprofit program in disaster relief.
Liferay comes with all of the tools to make up an ECM: document management, email integration, enterprise collaboration and shared workspaces. Liferay also includes all of the tools you'd expect from a CMS, which includes webpage authoring and SEO tools. Liferay is a CMS catch-all: it's document management, knowledge management and content management wrapped into one package.


More Recommendations for Enterprise Content Management Vendors
It's difficult to pick among the best enterprise content management vendors, but don't give up on exploring your options. In addition to this top 5 list, we also offer a comparison report for ECM that succinctly captures the highlights of each industry-leading product. For more business software news, also be sure to check back on our blog.
[Image courtesy of Marcin Wichary.]