Let's Talk Hey! VINA with CEO Olivia Poole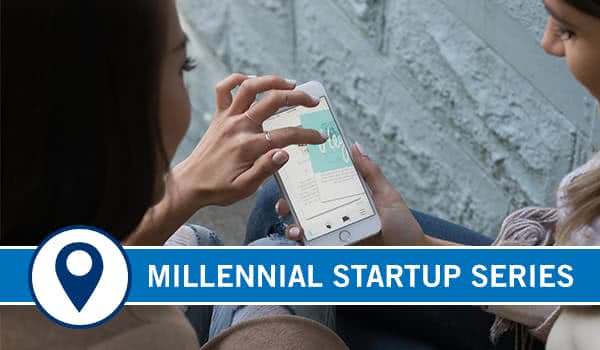 An app that liberates and empowers women is definitely one to celebrate. Hey! VINA is dedicated to building a community of inspiring women who want to help each other and find their next connection. The Vina team encourages women across the globe to be each other's resource and ally instead of trumping each other because of competition. We interviewed Hey! VINA's CEO, Olivia Poole, and learned more about the platform and how it's empowering women across the globe.
B-S.com: Before we dive right in, can you tell us a little bit more about yourself?
Olivia: I'm Co-Founder and CEO of VINA, the social networking app for women! I'm 30 years old, love the arts and outdoors, have lived in San Francisco for seven years and currently reside in Pacific Heights with my British husband and darling cat. When I'm not working I love volunteering my time to Spark SF, the largest network of millennials that aims to empower women around the world as well as REACH, a mentorship program for girls who grew up in foster care.
B-S.com: What did you find was lacking in the market that made you want to join the startup world?
Olivia: I joined the startup world because it seemed like the quickest and most efficient way to make a positive impact on the world and solve big problems. When I graduated college, I thought I wanted to be a lawyer/politician/judge but I quickly realized that wasn't my path. I'm an empathic, creative person so I needed something that allowed for more individuality and flexibility. When I started working in startups about five years ago, I quickly realized my life was super dominated by male colleagues and male friends so I longed for female mentorship, friends and colleagues.
B-S.com: How did the idea of creating Hey! VINA come about?
Olivia: I've been working to solve the issue that it's hard to make friends in a new city for literally the last seven years. I first tried using online dating and seeing if I could message the "women like me" and finding female friends that way, but it was a bit awkward. I went on to co-found a women's happy hour group called Ladies Who Vino four years ago where we host women-only happy hours every month to network. It's like having friends over and sharing a glass of wine. Ultimately, I combined these two experiences to create Hey! VINA and help women everywhere.
B-S.com: What is your hiring process like and how do you find the right people to join your team?
Olivia: We reach out to our users about opportunities since passion for our company and mission is essential and we have a lot of really talented women in our network!
B-S.com: With a rapidly growing team, what productivity apps and platforms does your team use on a day-to-day basis?
Olivia: Our whole team uses Slack for internal communication (we strictly use email for external communications), our editorial and marketing team uses Asana, product and engineering team uses Clubhouse.io. And of course, none of us could survive without Google Docs.
B-S.com: What has been one major challenge you faced when it comes to starting your own company?
Olivia: Everything is a top priority, so time management is the most essential thing in life these days. Also, you'll never have a more strict and critical boss, so it's important to make sure you give yourself a chance to celebrate your accomplishments and #ladybrag.
B-S.com: How can business professionals benefit from using your app?
"One of the best things you can do, as a business professional, is to leverage your network."   
Olivia: But in order to do that, you need to first find your network! This can be hard when starting a new job or moving to a new city, but Hey! Vina can help women not only find friends, but find professional connections as well. We're huge advocates of finding a "frien-tor" (aka a friend who is also a mentor) to be a source of professional guidance.
B-S.com: For a lot of startups, it's challenging to find funding and support. What is your approach and what do you look for in a potential investor?
Olivia: The investors I work with have been referred to me from people I know. A founder-investor relationship is one that lasts 7-10 years, so working with people who you trust is essential. The additional benefit of establishing this relationship goes both ways – if someone you know and trust has worked with an investor before, they're likely to make an introduction for you.
B-S.com: Lastly, what advice would you give millennials who want to start their own company but don't know where to start?
Olivia: Leverage your network! Analyze where your strengths and weaknesses are and then find people through your network to fill in the weak spots. Ask questions. Get feedback early, often and on everything. It's okay not to be an expert at everything!

Let us know on our Twitter and Facebook pages if you will be joining the Hey! Vina community.
[Image courtesy of Hey! VINA]