Highrise: CRM Made Simple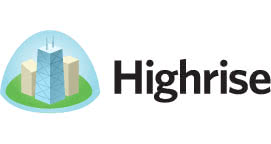 Looking for a system to manage your contacts, but need something more than a simple address book and less than a fully-featured CRM system? Highrise may be the solution you're looking for. Launched in 2007, Highrise is a simple system built to help SMBs better manage their contacts and communications.
Highrise is a web-based contact manager designed with the small business in mind. Many small businesses don't need the turbo-charged features provided by CRM vendors like Microsoft Dynamics or Salesforce.com—nor do they have the budget. Highrise provides the tools small businesses need to manage their contacts, track communication history and tasks, and stay on top of deals, proposals, and leads—all in packages that are affordably priced.
Highrise centralizes all the history and communication you have with a contact and puts all this information into a single record that is shared and accessible within the entire company. Permissions can also be easily set to allow businesses to specific which people, companies, notes, and cases can be accessed. Contacts from Outlook, Excel, vCard files, and other email applications like Gmail can be easily imported into the Highrise system.
In addition, Highrise includes task and activity management features that can help keep your employees more productive. Tasks can be categorized by actions such as Call, Email, Follow-up and others, and reminders can be sent to your email or mobile phone to ensure that all necessary actions are completed.
What makes Highrise stand out from other small business CRM solutions? Beyond its ease of use, Highrise puts all the information you need about a contact right at your fingertips. All the information about a contact, from notes to emails to Tweets, can be seen at a single glance. Highrise also lets users use a tagging system to categorize contacts, making it easy to look up contacts, even if you can't recall specific information about them.
Highrise is developed and delivered by 37signals, which provides web-based applications for collaborating, information sharing and decision-making. Highrise offers a free 30-day trial. The Basic plan is $24/month for up to 6 users; the Plus plan is $49/month for up to 15 users; and the Premium plan is $99/month for up to 40 users.
Highrise is a simple, easy-to-use contact management solution without the high cost, complexity, and learning curve of other well-known CRM systems offered in the market. All businesses need a way to manage their contact and customer information. But not all businesses may need features, like marketing and sales automation, that add additional complexity and cost without the value. For those businesses, Highrise may be the best option thanks to its simple approach that sticks to the basics of contact management.
This simplicity is what sets Highrise apart from other CRM solutions geared towards small businesses. But, Highrise may be too simple for your company, depending on your needs. Features such as lead management and project management, are not particularly robust and the system lacks a graphical calendar feature. However, if what you're primarily looking for is a solution to better manage your contacts and your communication with them, Highrise may provide exactly what you need.