The Adobe Controversy: Why Subscription Billing Was the Right Move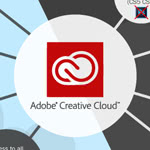 In 1999, Netflix successfully introduced subscription billing to an industry (movie rentals) that no one thought was possible. Prior to that, very few organizations outside of newspapers and magazines utilized the subscription model. Since then, companies globally have begun to explore and adopt subscription billing in increasingly diverse markets. For software companies in particular, subscription billing has become widely popular and successful. While many software companies are still selling their products via licenses, the majority of small businesses and startups are offering their products via subscriptions. Why has the subscription model become so popular, and is it truly better than other payment options?
Only several months ago, Adobe announced that they were moving all of their software to a subscription-based service. This announcement was met with a storm of controversy, with people from all sides trying to figure out how much this was going to cost them, how their workflow would be changed, etc. As a web/graphic designer and a frequent user of multiple Adobe products, I wanted to take the time to examine the situation objectively and figure out if this change does indeed benefit Adobe and its customers.
Pricing
A subscription to Adobe's Creative Cloud costs $50 per month. This can be cheaper or more expensive depending on what kind of user you are. Adobe loses money on power users who upgrade every cycle — every new master collection (Adobe's old package that contained all their major software) costs $2,500. But Adobe now makes more from the average user who previously used an older version for years or who didn't buy the master collection at all. This change in pricing model benefits Adobe in two ways: not only do they receive more money from their average customer, but they also get a steady revenue stream due to the nature of subscription billing. This allows Adobe to experiment with features/pricing and gauge customer interest with significantly less risk.
As someone who uses the Adobe suite on a daily basis, this change in pricing is actually more appealing to me. For reference, the subscription billing price is equivalent to buying the master collection every four years! I don't have to shell out $2,500 at any given time (spreading the payments out is financially easier for most people) and I have more freedom and flexibility in how I spend my money. For example, if I decide to go on a month-long vacation, I can cancel my subscription for that month and save $50.
Cloud Support and Updates
Because the software is now cloud-based, updates and patches will occur more regularly. This is probably one of the greatest advantages to Adobe's subscription service. Instead of waiting for the next cycle of software to get new technology, we'll have access to it the moment it becomes available. This means that we don't have to wait 1-2 years to try out Photoshop's new de-blurring technology. Unfortunately for previous customers, Adobe will no longer be providing any support or updates for any of their old software. One other problem for larger companies is installing the Creative Cloud. Because the software can only be downloaded from Adobe's cloud service (instead of installed locally), installation for a large company with hundreds of computers can take a long time.
Apps
Previously, Adobe offered every piece of software either on its own or in different packages, such as the master collection, web collection, etc. These different packages would contain different sets of software. Now with the Creative Cloud, a subscription gets you access to all apps offered by Adobe. This is great for power users who use a wide range of software, as they don't have to worry about what package to purchase. Unfortunately, this hurts customers that only use a select few apps (buying a subscription for individual apps is expensive: $20 a month for each individual app).
Subscription Billing and Creative Cloud: A Welcome Change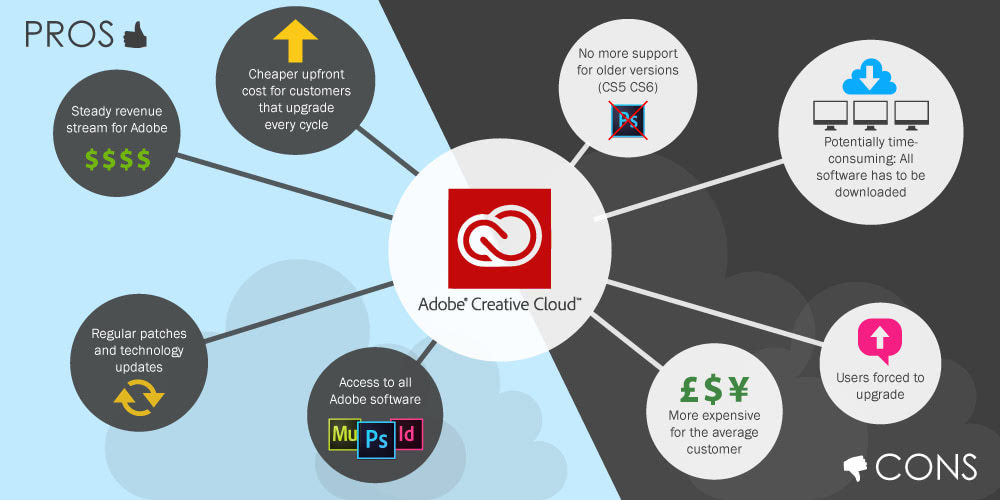 While I have highlighted many of the benefits and drawbacks of subscription billing for Adobe and its customers, ultimately I believe that this change to subscription billing is a good move by Adobe. For power users, not only is the upfront cost much cheaper, the overall cost is lower as well. Additionally, the ability to deliver more regular updates and patches is a welcome change. Having access to all Adobe software is a great feature as well. Previously, with the master collection, I wouldn't have access to Lightroom because it wasn't part of the package even though I needed it. This makes purchasing software difficult and annoying, as I would have to either purchase Lightroom individually or purchase another bundle that contained it. With the Creative Cloud and subscription billing all of that confusion is removed.
Delivering their software through subscriptions marks a fundamental change in Adobe's approach to business. We are seeing the beginnings of a more service- and customer-oriented approach: delivering updates more regularly, giving all customers some cloud storage, etc. This shift in focus towards delivering great support along with strong software is a much-needed change, especially if Adobe wants to stay competitive and relevant in the software industry.
Want to learn more about the top subscription billing software solutions? Browse subscription billing product reviews and blog content on the financial management resource center page. To compare the leading solutions, browse our free Top 10 Subscription Billing Software report.