Aria Cloud Subscription Billing Powers Disruptive Technologies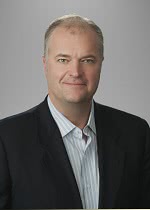 The rising popularity of the cloud has created a demand for new billing options: pay-as-you-go, subscription, rental, you name it. Aria Systems, a pioneer in cloud subscription billing solutions, supports disruptive, emerging technologies by enabling them to interact with their customers more effectively. CEO Tom Dibble joined us for a discussion on how cloud-based subscription billing is changing the way business is done.

About the Company


WEBSITE: www.ariasystems.com/
FOUNDED: 2003
LOCATION: San Francisco, CA
What is your company's mission?
Our mission is to empower innovation and growth in subscription commerce. We do this through relentless innovation to the product and relentless dedication to our customers.
How was your company founded? What inspired you to establish it?
They say necessity is the mother of all invention. Our founding team, prior to starting Aria, ran an ISP service that was acquired by COVAD, a company that had first-hand experience with how painful it can be to have bad billing systems in place and what an inhibitor it can be for your business or, conversely, what a strategic asset it can be in terms of being able to price and package your product in different ways and handling subscribers in ways previously not possible. This led to the idea of developing the next generation of billing services for companies that have recurring revenue models. Aria was born out of that need, pain, and opportunity. Furthermore, it coincided with the advancements made in cloud-based architecture. We decided to build Aria in the cloud to make it a lot easier to implement and deploy.
What do you do differently?
It depends on who you're comparing us to. The competitors on the high end of the market are legacy on-premise vendors like SAP, Oracle, and HP – all the stalwarts of enterprise software who offer multi-million dollar on-premise software that takes a year or two, sometimes more, to implement. Once implemented, those systems are very rigid in terms of making any changes to the system, experimenting with new business rules, or managing your customers. Aria is much cheaper and faster, and once you're up and running, we're highly flexible in how you want to mold the system to support your specific revenue objectives.
How has the success of the cloud impacted your business?
The adoption of cloud-based technology in the market has caused our business to go through the roof. People are much more comfortable buying cloud-based solutions today than they were in the past. Our average customer today is a large multi-national corporation, whereas a couple years ago it was a series A or B bleeding-edge start-up that was willing to take a risk on a new technology paradigm. So the nature of our customers has driven a lot of change within our company in terms of how we implement and support them. Selling to a Pitney Bowes or a VMWare is a lot different than selling to a series A pre-revenue start-up.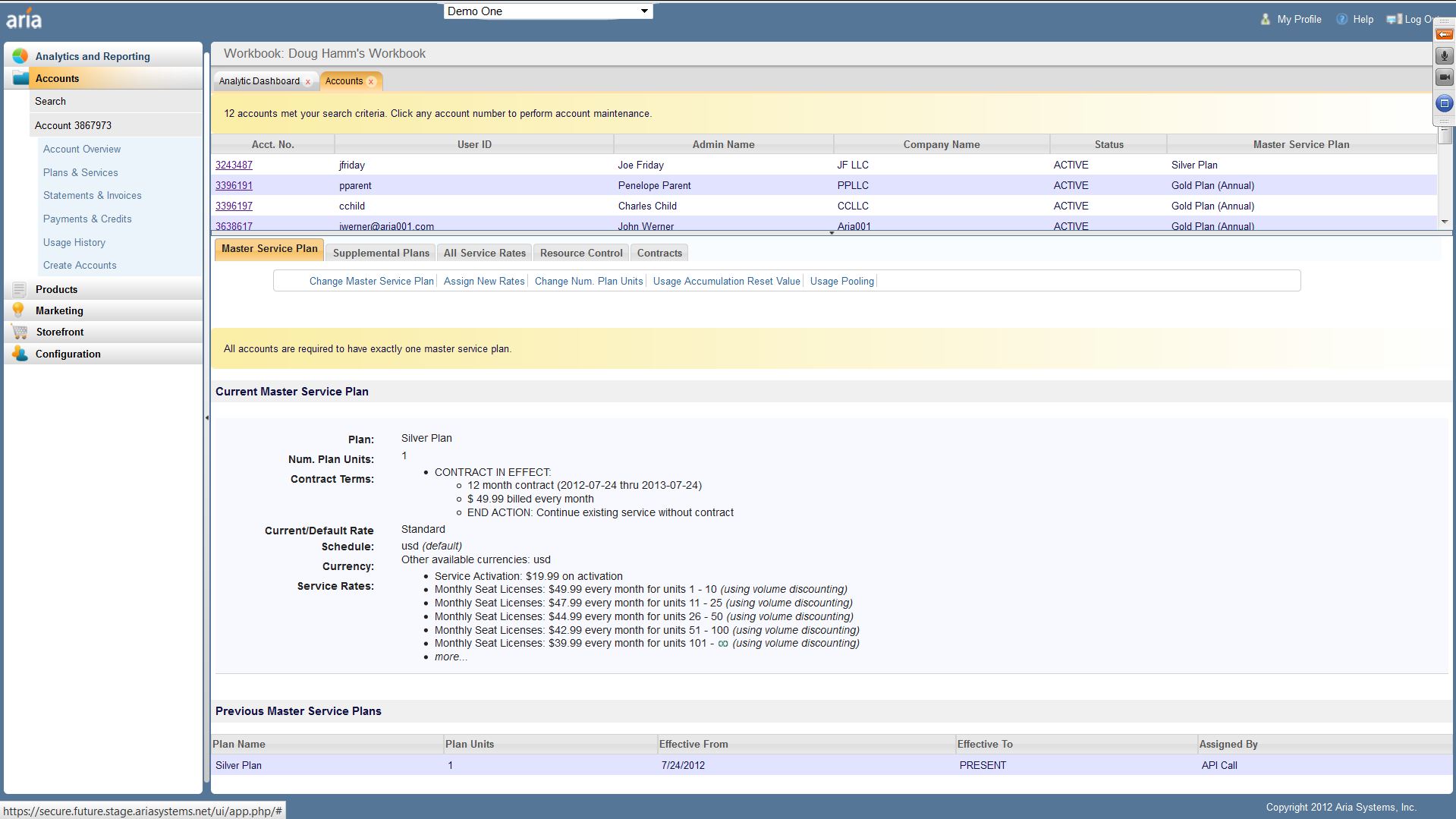 As a result, have your sales cycles changed?
We've been fortunate that our sales cycles have actually accelerated. Our average sales cycle, even for enterprise deals, is just below 100 days from first touch to contract closure. If you look at the average sales cycle at the competitors I just mentioned, you're talking about a whole year if not more. With us, by the time a customer has got around to looking into the next generation of billing technology, there's a high degree of urgency there to get something implemented and up-and-running very quickly
How is your company set up: office locations, size of team, customer base?
We're headquartered in San Francisco. The company was originally founded in Philadelphia and we still have a development hub there, but all our operations are in San Francisco. We have regional sales offices around the country, as well as one in the UK. We have just over 100 employees, which doesn't include any off-shore partnerships. 65% of our customers are based in North America, but over half of their customers are overseas. We invoice in over 160 different currencies today.
Where is the segment you operate in headed? Where do you see it in 5 years?
There are two answers to that. The first is not exclusive to Aria but relates to the tectonic shift we're seeing in technology today. Cloud-based delivery is going to be a de facto standard as a superior way to deploy technology, particularly technology that enables new initiatives. Secondly, the level activity that Aria is seeing at the high end of the market – with companies that otherwise would be buying from an Oracle or a Microsoft and who are now willing to buy cloud-based technology from young companies like us – is going to have a big impact. Fortune 500 and Global 2000 will be embracing cloud technology wholeheartedly, which has implications for companies in terms of figuring out how to build out your engineering team, your sales team, your customer support team, and what you need to do to deliver a world-class product with world-class support.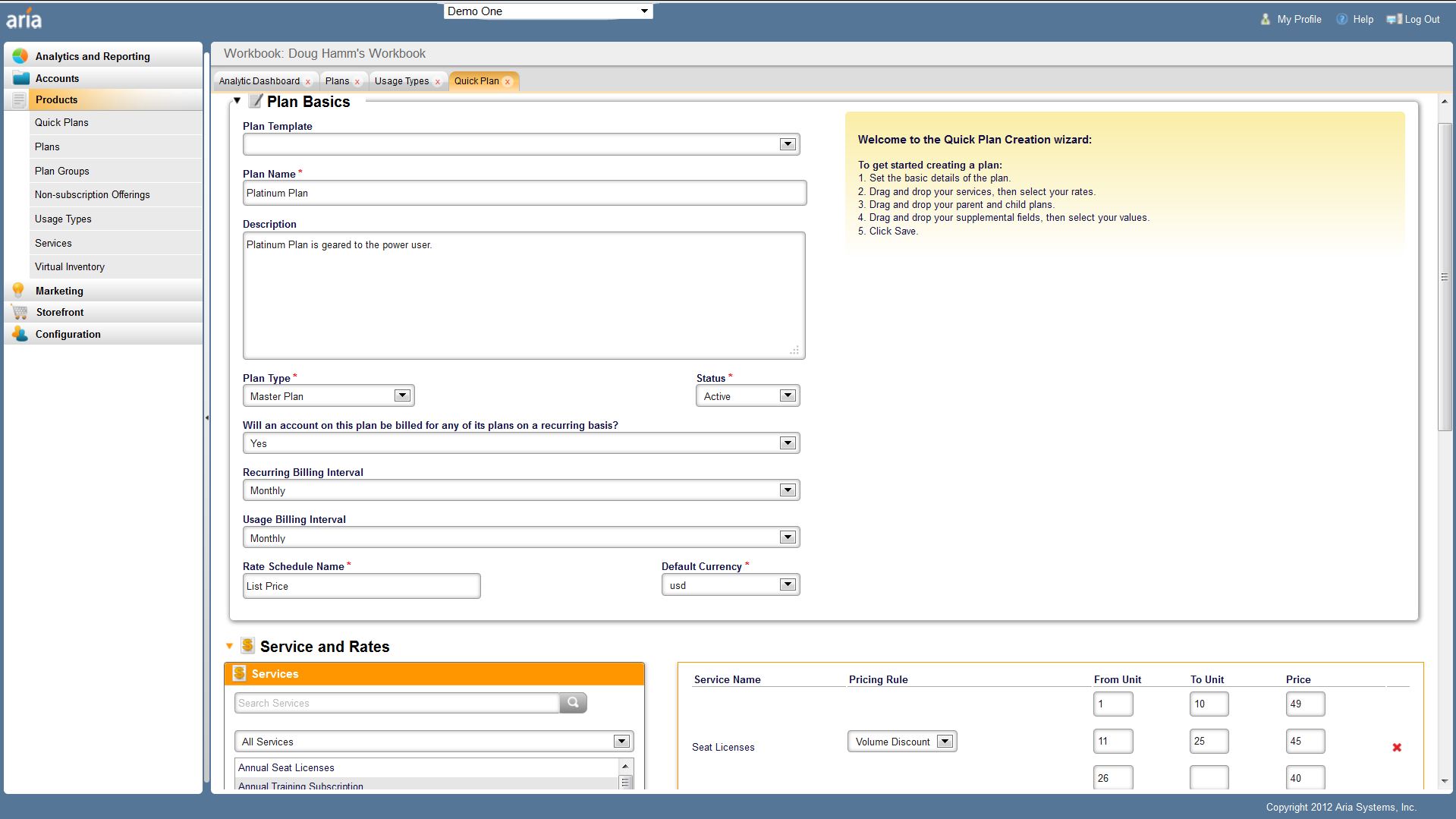 How are you preparing for the future you just outlined? What challenges do you see and how do you think you'll overcome those?
We do a lot of planning and projections around how many transactions we expect. From an operational standpoint, we ask ourselves what we need to successfully implement and support a customer. What do we need in terms of infrastructure and personnel? What types of customers do we expect to sign up and how will they impact our product roadmap? What areas of the market are going to gravitate toward our product offering and what features and functions are they going to need?
What is the most exciting thing about your software for you personally?
We're changing the way business is done. I know that's a broad, universal statement, but we truly are. There are companies today that are selling products and services in ways that have never been done before. That's being driven by businesses and consumers who are demanding different packaging and pricing options, whether it's pay-as-you-go or a rental or a fixed subscription plan. There's a multitude of ways people are consuming services and the technology that has been out there to date doesn't support that. Aria does. We're opening up new doors for businesses to launch creative ideas that wouldn't have been possible without our technology.
Who are the most interesting people/companies in your market segment right now and why (besides yourself)?
I'm a big believer of transformational business models, like Airbnb, where you're monetizing spare capacity around the world. HootSuite runs their entire business on Aria, and their business is growing like wildfire, whereas you would never have seen that type of business a couple years ago. Same for Roku, who also runs on Aria. There are so many disruptive, emerging models out there requiring new tech to support and maximize them, and that's where Aria comes in.
Want to learn more about the top subscription billing software solutions? Browse subscription billing product reviews and blog content on the financial management resource center page. To compare the leading solutions, browse our free Top 10 Subscription Billing Software report.