How Gas Station Marketing Can Benefit from Big Data Analysis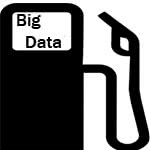 Gas stations and convenience stores have long since been looking for the competitive edge at the pump. Besides improving facilities and maintaining competitive pricing, some gas station chains have begun offering loyalty reward programs. This tactic has also been implemented in many industries from retail to travel with success. It not only strengthens your existing customer base, but also has a lot of opportunities to help your business. Here are a few tips about implementing reward programs you may not know:
1. Opportunity for data capture
Loyalty programs present the opportunity to capture a good amount of data about your most frequent customers. Every time the customer uses the card, you can learn about their traveling habits, what gas they use and how often they fill up. You can overlay this data with things like fluctuations in weather, gas prices, seasonal changes and holidays. This process can enrich the data you've collected in order to find existing and emerging trends in your business.
2. Predictive Planning
Now imagine that you were able to pull this information from a large pool of your customers. You would be able to predict about how much gas will sell during a particular time of year or event and how much of your sales come from return customers, data which can be helpful for signing more vendors and offering better products in-store.
3. Personalization of rewards
Letting your customers know how important they are to your business is at the heart of reward programs. By capturing their purchase data, you are able to offer rewards to different stores or regions that are applicable and meaningful to your customers. Perhaps in Milwaukee, your best seller is hot chocolate whereas in Florida, your best seller is a blue slushie. And it doesn't always have to be so obvious. Perhaps more people purchase car washes in one location than another because of traffic flow. This information can help you decide what promotions will be most successful in a given area.
4. Technology considerations
These tactics are just the tip of the iceberg when it comes to customer loyalty programs because the data you are able to collect is vast, and the uses are nearly limitless. In order to take full advantage of this data, however, you have to be able to analyze it. The "Big Data Problem" can be solved with technology solutions like database development. This helps automate processes and aggregate disparate data sources into a palatable document from which you can make decisions. Technology is an important consideration because it can ultimately help you better the rewards program and your ability to act upon the collected data.


Ready to find the best Big Data BI software solution for your company?
Browse product reviews, top blog posts and premium content on our BI resource center page. To compare the leading business intelligence software, download and browse the Top 10 Business Intelligence Software report for fr
[This article was syndicated with permission from AskingSmarterQuestions.com.]