Behind the Software: Q&A with Freshdesk's Dilawar Syed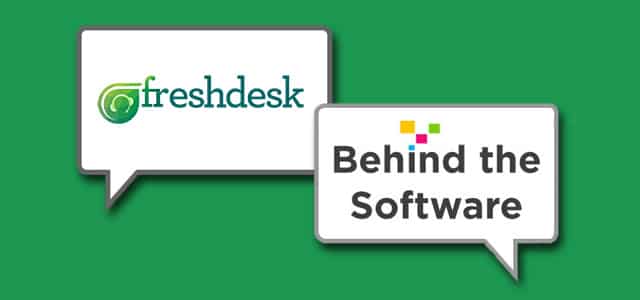 In today's interaction-driven culture, more consumers than ever before are communicating about their experiences as customers — positive or negative. And as the continued Comcast blunders have shown, modern customers are not afraid to call out businesses or speak up about sub-par service experiences. That's why it's essential that businesses invest in both a reputable platform to organize support needs and upstanding employees to ensure the well-being of their clients.
Web-based help desk software solution Freshdesk can assist with the software component of that equation, providing a multi-channel platform for companies to streamline, simplify and socialize their responses to customer requests. In this Q&A with Freshdesk we spoke with Dilawar Syed, President of North America Operations, about the company's commitment to comprehensive support software, its growing appeal to customers of all sizes and its foray into the IT help desk industry.
To begin, I'd love to hear more about how Freshdesk came about. What need in the help desk software space did the founding team feel was not being fulfilled?
About the Company


WEBSITE: www.freshdesk.com
LAUNCHED: 2010
HEADQUARTERS: San Francisco, CA
We were founded about four years ago and were able to capitalize on the rising demand for customer service solutions. [Freshdesk's success has occurred] in part because some of our peers in the market adopted the ways of the on-premise encumbrances, whether it [involved] the solutions not being very flexible or easy to use, the pricing not being very competitive or the support model not being very friendly.
Customers today expect the best service, but they don't want to pay millions of dollars for [a platform that provides quality service]. We came onto the market when there was a great demand for exceptional customer service solutions offered at an affordable price point. [We're able] to provide a solution that can serve the needs of companies of all sizes, that is competitively priced and that offers a best-in-class experience as a support model. Our mission is to democratize the use of customer support across the length and breadth of the global economy — not just for the big companies, but companies of all sizes.
Freshdesk is all about simplicity and efficiency, yet the platform offers a comprehensive set of functionality. It seems like so many vendors fall short at achieving that dynamic – how is Freshdesk able to maintain that balance of being powerful and user-friendly?
First and foremost, we are a product company, so we think about and internalize this [balance] on a daily basis. We're focused on having a product that is cloud-based, easy to set up and easy to use. Our reason for existence is to build a great product, and not necessarily a solution that is custom-built for every third customer — that is not who we are.
Secondly, I think [part of the reason for our success] is that we literally took a fresh look at customer support software. We decided not to do an incremental improvement, but to ask, "In today's age, how best can you provide a product that includes social, phone, email and chat as part of the customer service experience?" Taking a fresh look meant architecting the product in a wholly different manner and looking at our product [with the understanding] that it needed to meet today's consumer demands. That's why there is a lot of depth to the product, but it doesn't feel overweight. We use the term 'powerfully simple.'
Another reason why I think we have stayed true to our approach is that we often serve SMEs and the mid-market, companies that don't have IT departments and need a solution that can be set up quickly and easily. We try to be in software support what Gmail has been for organizations who were looking to replace Outlook, and our focus on SMEs helps us stay focused on providing a very easy-to-use, deep product.
Though we're seeing more vendors both entering the SaaS customer service space and transitioning to a cloud-based platform, Freshdesk is frequently pitted against your competitor Zendesk. What functions does Freshdesk do better than other help desk tools?
One thing that we do better than our peers in the market is offer a [unique] feature set. For example, we have a lot of international customers and have developed a seamless way to manage support across international geographies. If you have a customer support organization that is distributed across the world, [your agents] can provide service in their own time zones without confusing the customer or confusing their internal tracking systems. We also provide a powerful knowledge base that customers can use to help themselves, which reduces the number of inbound customer inquiries. We offer more channels for support than other vendors as well, including in-app support, which allows companies to provide support within the smartphone app (as opposed to having to leave the smartphone app).
We also wanted to make Freshdesk fun. Customer support representatives log long hours, and responding to inquiries can be tedious. Gamifying the help desk with Freshdesk Arcade gives those customer-facing representatives the opportunity to win badges and play games, which can make a huge difference in lifting morale. The agents who work in these call centers grew up playing games, and they appreciate having a fun element in a job that is often not considered very fun.
Finally, I would say that our support model [helps set us apart]. We provide free support to anybody, whether it is customer support or professional support for larger deployments. Offering free support is a great way to serve companies who don't have IT departments, but who still might need assistance setting up their help desk.
Freshdesk just announced Cisco as its 30,000th customer, and you've seen your customer base triple in the last year – what's contributed to such a sizeable growth spurt?
We've positioned ourselves to benefit directly from the market expansion, and our growth has been fueled by our focus on the middle market. We want to serve companies that are serving customers — no matter what their size is. We're also investing heavily in brand awareness. We had a presence at Dreamforce 2014, we've been doing events and we are striking partnerships.
Now that your customer base is so large, how do you ensure that every customer receives a quality experience and has access to all of the support they need?
"We want to make sure our focus is on being customer-centric."
We want to make sure our focus on being customer-centric [is still present], regardless of how big we are and how many different kinds of customers we serve. We are investing a lot of our resources in building our customer service organization. That's probably one of the fastest-growing groups within Freshdesk.
Secondly, it's about being able to make sure that we are scaling from a product standpoint. A lot of our investment is going into support, infrastructure and making sure that our platform is robust. We're also investing in partnerships, distribution relationships and reseller relationships.
Your recent successful round of funding ($31 million raised), combined with the spike in your customer base, reflect a changing perception of customer service software in the business world. What do you think changed to cause companies, regardless of size, to see customer support tools as worth investing in?
One reason is that there is more demand for customer service tools, as companies realize that they can't get away with just using email. Enterprises and small companies alike need a best-in-class help desk solution, and one that manages tickets and customer relationships without the frills and weightiness [of a modular suite].
The other thing I would say is that at a more departmental level there has been quite a bit of 'developerization' of the enterprise. Help desk solutions have become a lot more accessible for departments outside of IT, and that is part of why you see this incredible popularity of solutions like Freshdesk. There has been a fundamental shift in the way software is bought, consumed and deployed.
Earlier this year your company also launched Freshservice, an ITIL service desk solution. Why did the leadership team feel a separate internal-based help desk offering was necessary and/or beneficial for users? Can you walk us through some of the core differences between Freshdesk and Freshservice?
"We built Freshservice to address the mid-market with agility and ease of use."
While Freshdesk works beautifully for internal support, it is designed to be for external customers of companies. Yet we saw that some of our customer base was using Freshdesk for internal purposes, and we felt we could do a better job of providing that service. That was the impetus for us to launch Freshservice, which [focuses on] employee desk and service desk. Some of the key differences of Freshservice are IT-specific features like asset management, change management and release management.
The launch of Freshservice also goes back to the market dynamic, where once again we found that vendors weren't responding with an easy-to-use, easy-to-set-up, affordable support product. There are a lot of companies with big service desk platforms and custom products, but not everyone can afford these solutions. We built Freshservice to address the middle of the market with agility and ease of use.
Transitioning back to the Freshdesk platform, can you offer any insight into what types of new capabilities users can expect in the new year? Does Freshdesk have plans to develop any other customer service-oriented tools?
Mobile is a big focus for us, [because] we've found that many of our customers want to enable agents to provide service on the go. We are very excited to launch our newest iOS and Android apps, [which allow you to] manage and close customer tickets from your mobile device.
Multichannel support and incorporating the rise of mobile apps [is another area we're focused on]. Existing mobile apps in the market have not done the best job providing a seamless way for customers and users to get their questions answered, so we are investing heavily in making sure that Freshdesk is organic to mobilize.

Find more information on Freshdesk and other top customer service tools by checking out our free Top 10 Customer Service Software comparison report. You can also peruse our other Behind the Software exclusive interviews by visiting the Business-Software.com blog homepage.