New Research: It's Not About Satisfaction, It's About Engagement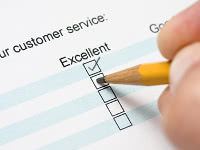 The Challenge:
Businesses that rely heavily on customer satisfaction surveys as a gauge of overall customer happiness, without an evaluation of total customer engagement, run the risk of losing valuable sales opportunities.
The banking industry has a lot to teach us about how not to get stuck in a rut of perceived customer satisfaction.
According to a recent Gallup poll, "research shows that banks that only consider customer satisfaction — even extreme "top box" satisfaction — are leaving significant cross-selling and up-selling opportunities on the table."
Less than half (45 percent) of customers who are satisfied say they would consider their bank the next time they needed a product or service, however, that consideration skyrockets to 83 percent among customers who are both satisfied–and fully engaged.
Customers who are fully engaged and satisfied are also more likely to say they will open new accounts, switch from another bank, increase balances, and add ancillary products than are those customers who are just satisfied.
Additionally an Ernst & Young Survey noted "understanding customer behavior, attitudes and requirements is more vital than ever for banks' strategic thinking….banks need to reevaluate their assumptions and fundamentally change how they interact with their customers."
HMS National, the Florida home warranty marketer, used Voice of Customer Insights to increase customer engagement and boosted renewal rates by over 50%. VoC learnings helped them develop more effective strategies for engaging customers throughout the customer lifecycle, starting at the moment of enrollment.
Another company which understands that engagement equals customer loyalty is Discover Card, which has led the credit card industry in customer brand loyalty for 17 consecutive years, according to an annual study by the independent research firm Brand Keys, Inc. The research found that emotional engagement is the dominant driver of purchase decisions and brand loyalty.
This is evident in Discover's Cashback Connection page, which notes "for every reward there's a story. We want to know what Cashback Bonus means to you." This tactic humanizes a company benefit and ties it directly back to the consumers using it.
Three key factors for their success:
Discover Card has created the highest levels of loyalty by leveraging real, emotional value.
They provide an experience that lets consumers actively engage with the brand so that expectations are created, understood, and ultimately delivered.
Discover Card uses the information gained through its strong customer relationships to develop product features that are directly consistent with consumers wants.
Key Takeaways:
Understand how your customers define satisfaction and engagement, and develop processes and metrics to keep measuring these factors on an ongoing basis.
Use voice of customer feedback from research, call centers, customer service interactions, sales reports, etc. to develop a holistic view of your customers needs…and use this information to drive continually improving customer experiences, communications, and offers.
Establish personal and emotional connections with customers that are both authentic and differentiating.
Looking for more information on customer engagement software or other best-practices tips? Check out the Business-Software.com Marketing Resource Center to browse free product reviews, comparisons and related marketing software content.