Report Card: 10 Crucial Lessons SMBs Can Learn from 2012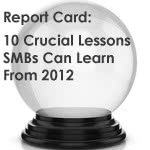 Before developing our 2013 predictions, we wanted to assess how we did on our 2012 Top 10 SMB Technology Predictions. Here's our take–please let us know what grades you would have given us!
And stay tuned for our Top 10 SMB Technology Predictions for 2013, which we will post in a couple of weeks!
Note: On this grading scale, 5 means that we came closest to hitting the mark, and 1 means we missed it entirely.
Economic Anxiety Lowers SMB Revenue Expectations and Tightens Tech Wallets: Year-over-year data from our annual SMB Routes to Market Studies indicated that more small and medium businesses (SMBs)* were forecasting flat or decreased IT spending heading into 2012 compared to 2011. Given SMB budget constraints and the plethora of solutions aimed at SMBs, vendors had to work harder to convince budget-constrained SMBs that their solutions would really help address top SMB business challenges to attract new customers, grow revenues and maintain profitability. More SMBs turned to lower-risk, pay-as-you-go cloud options, and several vendors (IBM, Dell and HP, to name a few) introduced new and/or enhanced financing options to help SMBs overcome financial hurdles. [Score: 4]
The SMB Progressive Class Gains Ground: We identified a distinct category of SMBs that we termed "Progressive SMBs," who see technology as integral to achieving business goals and to gaining a competitive edge. Progressive SMBs invest more and purchase more sophisticated solutions than their counterparts. Trending analysis from our 2011 to 2012 Routes to Market Studies show that the percentage of SMBs in the Progressive category is growing. Furthermore, Progressive SMBs continue to gain ground over SMBs that skimp on technology in terms of expected business performance. [Score: 5]
The SMB Social Media Divide Grows: SMB adoption of social media did indeed jump, from 44 percent to 53 percent among small businesses (and from 52 percent to 63 percent among medium businesses from 2011 to 2012, based on trending analysis in our SMB Social Business Studies. The divide between social media haves and have-nots is also growing: our research reveals that 65 percent of SMBs that use social business tools anticipate revenue gains, while only 17 percent of "non-social" SMBs expect revenues to increase.
[Score: 5]
Cloud Becomes the New Normal: SMBs haven't swapped out all of their on-premises solutions in favor of the cloud–but the puck is clearly moving to the cloud in all application areas. The evolution is continuing at a steady pace, as evidenced by trending analysis in our annual SMB Routes to Market Studies. In some areas, cloud is poised to overtake on-premises solutions. For instance, over 30 percent of SMBs that purchased or upgraded collaboration, marketing automation, BI and data backup in the past 24 months chose cloud, and over 40 percent of SMBs planning to purchase solutions in those areas in the next month plan cloud deployments. [Score: 4]
Mobile Application Use Extends Beyond Email to Business Applications: SMBs significantly ramped up mobile business application use and plans in 2012, as evidenced by trending analysis from our annual SMB Mobile Solutions Studies. More SMBs are providing mobile business apps to employees in categories ranging from CRM to time management to expense reporting. In addition, adoption of external-facing (for customers, partners and suppliers) mobile apps and websites also rose considerably. For instance, SMB use of a mobile-friendly website is up 10 percent among small businesses and 23 percent among medium businesses. [Score: 5]
Increased SMB Business Intelligence (BI) and Analytics Investments Are Sparked by the Social-Mobile-Cloud Triumvirate: The avalanche of data generated by cloud, social and mobile has certainly created the need for better analytics. However, year-over year trending data from our SMB Routes to Market Studies reveals a mixed bag in terms of adoption. Use of BI solutions among medium businesses spiked 24 percent in the past year, but adoption rose just 2 percent among small businesses. While vendors appear to be doing a good job of developing and marketing BI solutions tailored to the needs of medium businesses, they have not yet figured out the right formula for smaller ones. [Score: 3]
Managed Services Meet Mobile: We forecast that the explosion of mobile devices and apps, "bring your own device" (BYOD) phenomenon and the increasing concerns about security would spark increased demand for and more solutions to manage mobile on the back-end. Our annual SMB Mobile Solutions Studies show that SMB adoption of mobile management services—from simple device management to comprehensive mobile management platforms—has accelerated rapidly. For instance, 16 percent of SMBs have already deployed an outsourced mobile management platform, and 30 percent plan to do so within a year. [Score: 5]
The Accidental Entrepreneur Spikes Demand for No-Employee Small Business Solutions: Small businesses without a payroll make up more than 70 percent of America's 27 million companies. We hypothesized that the 2008 recession and subsequent layoffs generated a new and often "accidental" breed of entrepreneurs that would spike demand for—and growth of—applications targeted to meet the needs of these businesses. And they have. New and improved cloud-based and mobile apps from traditional small business powerhouses (Sage, Intuit, Microsoft, Google, etc.), SOHO pioneers (Freshbooks, Nimble, Dropbox, Zoho, etc.), and freelance talent sourcing solutions from companies such as Elance and oDesk are making it easier than ever for SOHOs to get their work done.[Score: 5]
Increased Adoption of Collaboration and Communication Services in Integrated Suites: Trending from our Routes to Market Study Medium businesses shows that overall, use and plans to deploy collaboration solutions is up year-over-year. Low-cost, low-risk, cloud-based collaboration and communications services have made it easier for SMBs to use integrated collaboration tools, while eliminating the inconvenience of using multiple sign-ons and interfaces.The fact that vendors are integrating more into their offerings—such as Google integrating Google+ hangouts, IBM SmartCloud Engage adding social communities and Citrix adding video capabilities to GoToMeeting—doesn't hurt either. [Score: 4]
The IT Channel Continues to Shape-Shift: Cloud, social and mobile trends continue to reshape how channel partners must deliver value across the board. SMBs are increasingly choosing to purchase directly from software and cloud vendors in most areas. And Managed Service Providers (MSPs) have gained ground as a purchase channel over VARs in several solution areas, including security, BI and collaboration. The need for more specialized business and/or technology expertise has also made some types of channel players more relevant in each specific solution category than others. [Score: 5]

*In SMB Group Syndicated Survey studies, we define small businesses as those with 1-99 employees, and medium businesses as having 100-999 employees.

For more tips from Laurie McCabe and coverage of SMB trends, check out the section of the Business-Software.com blog devoted to small business needs and solutions.
[This post originally appeared on Laurie McCabe's Blog on SMB-Group.com and has been republished with permission]