Social CRM Goes Mainstream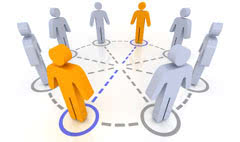 It seems that everyone wants to take part in the social revolution that is transforming business. Both new and established vendors are clamoring to stake their claim in this relatively new area. As a result, social CRM has moved to the mainstream of the enterprise software market. Both large, multinational companies–whose forte may not necessarily be in software or social media–and small, niche vendors specializing only in social CRM are eager to roll out their social solutions before the next guy.
Two New Entrants to the Social CRM Arena
Interestingly, two very different vendors announced on the same day new enterprise-class social CRM enhancements to their respective products and services.
Known primarily as a hardware provider, HP recently launched HP Social Enterprise Services, which aims to help organizations gain a holistic view of their customers by integrating social media platforms with existing contact center channels.
Part of the HP Customer Engagement Management package, which provides services to improve the operation and management of outbound and inbound contact centers, HP Social Enterprise includes analytic tools that help organizations monitor conversations about their brand on social networks; respond to customer comments and questions made through social channels; gain insight into customer and industry trends; and create reports on the progress and success of social media programs.
KANA Software, a global provider of customer service software, also recently announced the launch of their new social media listening and engagement solution. According to KANA, this new solution—named KANA Social Listening and Engagement—is designed to help organizations bridge the gap between social media channels and traditional customer service tools. Included in the solution are applications to monitor online conversations on social networks; to analyze customer sentiment and emerging trends; and to engage with customers using the context gathered from social networks.
It seems as if the strategy for these two companies is to build in social media capabilities to their existing solutions. Other companies have taken this approach, though there are several niche vendors whose solutions are built with social media at its core.
The Social CRM Leader (at the Moment)
Of course, one cannot talk about social CRM—or CRM, in general—without mentioning Salesforce.com. This CRM juggernaut was an early champion of the Cloud and has now turned its focus from "no software" to the "social enterprise." Along with introducing social media into the enterprise with Chatter, Salesforce.com has been making strategic acquisitions to extend the social media functionality of its solution offerings, further cementing its reputation as an industry leader. But, that's not to say that other vendors and new companies won't try to steal this crown away from Salesforce.com. Social CRM, despite gaining mainstream traction, is still a relatively open field.
More than a Fad
Is social CRM just a trend started by one industry giant with others following suit to avoid being left behind? The answer is no. Social media has changed the way people interact on a personal level and that has seeped into how business interactions are carried out.
Potential and current customers don't want to be talked at anymore. They want to take part in the conversation and steer the dialogue. As a result, social media has changed the way organizations interact and engage with their customers.
But, a heavyweight like Salesforce.com can provide the framework for where the industry is headed. So, social CRM solutions will continue to evolve and expand to include more functionality as the social CRM market matures. More players will also emerge to fill the demand for socially-enabled solutions, especially when larger, more established vendors are too slow to react.
Looking for additional information on the best CRM software solutions? Browse product reviews, blog posts and premium content on the CRM resource center page. To compare top CRM solutions, download one of our seven free Top CRM Software reports.