The Best Free ERP Systems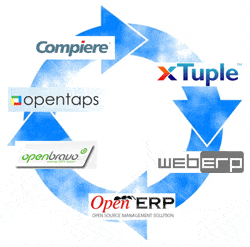 When it comes to free ERP systems, all the important players are open source. When someone refers to open source ERP, they're talking about a system in which the source code is made freely available to developers and potential customers. With the raw source code, developers are free to build-out the software and businesses are free to customize it to meet any specific requirements they have.
Deployment and customization is generally the province of IT staff, and can require significant experience with ERP development and programming. Thus, most open source ERP companies also provide a commercial license and/or enterprise edition backed by second-tier support services.
Open source ERP is an attractive option for organizations seeking a robust, flexible product without the burden of paying license and support fees. The tradeoff is that you're on your own for deploying, upgrading, and maintaining the system. So if you're in the market for a new ERP system, and you have a capable IT department, consider the following options for open source ERP.

This award-winning open source ERP software is free of charge for a basic download. The PostBooks suite includes accounting, sales, CRM, purchasing, inventory & distribution, and light manufacturing modules. It runs on Windows, Linux, Mac, and mobile, and is fully international, with support for multiple currencies, tax structures, and language translation packs. xTuple offers a PostBooks guide that walks users through the process of installing and getting started with the software.

Published under the AGPL license, OpenERP is a comprehensive suite of business applications including ERP, CRM, project management, HR, and more. The software is available in SaaS and on-premise versions. The modular nature allows users to select which applications they need, and add modules as their needs change. The free community version provides the full set of OpenERP features, but doesn't include support, bug fix service, migrations, or private modules. Users can upgrade to the Enterprise or Online versions for 165€ and 39€ per user per month respectively.

Compiere Community Edition gives users core ERP and CRM functionality, a cross-platform Java Client, and access to support through Compiere's online community, though the Community download doesn't include automated upgrade tools or any support from Consoma. Compiere is distributed under the terms of the GPL open source license. Users of Compiere Community Edition can deploy the software in their own data center, or upgrade to Enterprise Edition and host in Amazon's Elastic Compute Cloud.

This Web-based, open source ERP solution is designed for small and medium-sized companies. With nearly 2 million downloads, it's one of the leading SaaS open source ERP solutions available. The company's business model revolves around providing the core software for free, but offering clients paid services around installation, deployment, operation, and customization. The Openbravo Public License is based on the Mozilla Public License. The Java-based software is compatible with Windows, Linux, Unix, Solaris, and FreeBSD operating systems.

Opentaps offers its Open Source ERP + CRM product entirely for free, with no obligations. Like many similar products, opentaps also offers a Professional Edition with a commercial license and technical support, priced at $600 per user per year. For a fee, the company provides a range of services to support evaluation, implementation, updates, and more through its partners. The product suite has a broad range of features that cover eCommerce, CRM, Warehouse and Manufacturing, Financial Management and Accounting, Purchasing and Supply Chain Management, and BI and Reporting. It's built on Java J2EE, and compatible with all major databases.

As the name implies, webERP is a cloud-based open source ERP solution, founded in 2003 and geared toward small and medium-sized enterprises. Coded in "efficient PHP," webERP is designed to be fast, easy to modify and understand, and suitable for low bandwidth connections. It's a mature system that offers a wealth of features. Users can find support through the webERP mailing lists, Web forum, and through a variety of commercial third-party consultants found under the "Support" link on the webERP site.
Want more information on ERP software? Discover and learn more about enterprise resource planning software by exploring blog posts, white papers and more at our ERP research center. For comparisons of the best ERP solutions on the market, download Business-Software.com's Top 20 ERP Software report.