Top International Enterprise Tax Software Solutions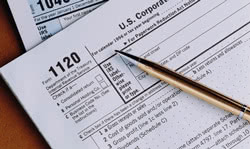 There are only two things that are inevitable: death and taxes, but only one of them has a whole segment of software solutions devoted to addressing its unique problems.
Often times folded into the same fold as accounting and financial planning software, a business tax solution, like the aforementioned types of software, is a tool that bears direct influence on your bottom line. Of course there's also a legal aspect as well. Generally speaking, compliance with the tax codes of any given country isn't an optional procedure, and organizations who don't deign to keep their books in order come tax time are bound to come under harsh punitive measures by government agencies sooner rather than later.
That said, not all tax software solutions are created equal. It's mostly an issue of sovereignty; near every country in the world has its own corporate tax code, so, naturally, a piece of software designed for tax compliance in the United States will not be of much value to a company that files its taxes in Canada or the Philippines. Here are some of the top solutions for two of the regions (and a standout multinational solution) we receive the most feedback from in regards to tax software. Whether you're a company doing your tax forms in-house or in enterprise-level financial consultancy, these are some of the standouts geared towards tax compliance under specific jurisdictions.
If you have any other countries you'd like us to cover, let us know if the comments section or tweet us @BiznessSoftware.
Multinational
ADP Taxware Enterprise


This is one of the most robust and flexible tax solutions on the market right now. The program has adjustable parameters for adhering to the tax codes of not just the U.S. and Canada, but more than 200 other countries. That it can provide so much functionality while remaining more or less software-free is remarkable in and of itself.
Enterprise is specifically designed for larger organizations of 1000+ employees. As such, many of its advanced features are focused on decentralization of duties and macromanagement of work, for example devolving the ability for data entry down to the departmental level while retaining all final executive functions in the tax/finance department. Additionally, the system is augmented with automated updates to its tax code definitions in order to stay up to date with the shifting legal and regulatory functions of whichever country the enterprise is filing its taxes in.
United States
Thompson Reuters Ultratax CS


It can be noted here with some irony that one of the standout enterprise tax solutions is designed and sold by a Canadian corporation. Thompson Reuters' solution got accolades this year from publications The Tax Adviser and Journal of Accountancy, being recognized as having the highest overall customer satisfaction rating among tax solutions represented in their study.
Ultratax CS boasts the ability for full automation of the functions behind a professional tax practice, as well as CPAs employed as part of in-house finance departments. It's also able to process the appropriate paperwork for 1040, 1120, 1120S, 1065 and 1041 filings. In addition to stringent adherence to federal regulation, Ultratax keeps track of U.S. state tax and state tax returns, which it calculates automatically.
Canada
CCH CanTax T2 Plus


CCH's enterprise-oriented solution features a track record of more than 20 years and full documentation for tax filings in every province with the exception of Québec. Other provincial-level considerations, like the elimination of a capital gains tax for corporations in Ontario, are accounted for as well.
Staying up to date on Canadian tax code changes is made slightly less costly by virtue of T2's 3.5-year coverage periods. One of the most appealing features, however, is the ability to review logged data and filings up to a five-year period, a handy tool for comparing and contrasting changes in an organization's tax returns across a long-term (up to five years into the past) time span.
Want more information on business tax software solutions? Browse our financial management resource center for product reviews and blog posts on financial solutions, including business tax software. For a comprehensive comparison of the top business tax software products, download the free, Business-Software.com exclusive Top 10 Business Tax Software report.