Top Trends in ERP for 2021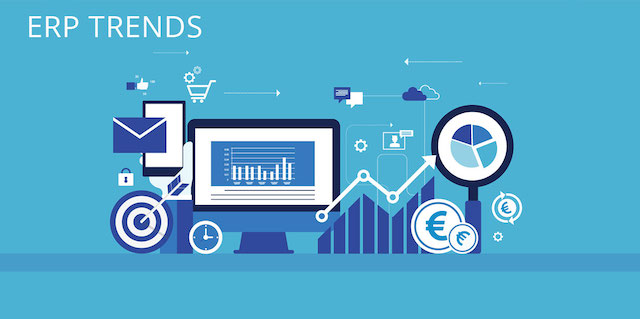 Enterprise Resource Planning (ERP) has come a long way since it was first introduced. It is no longer a planning and execution system used only by large enterprises. Recent technological developments, especially the cloud, have made ERP accessible and affordable to small and midsize businesses as well. Automated processes, centralization, and increased visibility help tighten controls, reduce costs, and gain a competitive edge. As technological innovations continue to advance however, it's important that IT departments embrace new trends and technologies. Inflexible and outdated ERP systems can determine whether or not a company succeeds. Below are the top ERP trends for 2021 to make sure your company keeps a competitive edge.
Top Trend: Cloud Adoption
While hardly a new development, the cloud continues to be a game changer. COVID-19 especially has given a leading edge to companies who are able to run their processes remotely, with employees working from decentralized locations such as home offices. ERP systems used to come with hefty installation and maintenance fees. Cloud ERP removes that hurdle, making the software accessible for universal adoption. 
The modular nature of cloud ERP allows companies to scale their system to their exact needs, further reducing running costs. Real-time data offers in-depth insights, improved customer service, and streamlined business functions, all of which are key in today's marketplace. 
Top Trend: Artificial Intelligence
Artificial intelligence (AI) integration is a growing trend in the ERP industry for its obvious benefits. ERP excels in collecting large amounts of complex, unstructured data; however, the problem remains of how to analyze this data and execute upon it. This is where AI comes in. It can mimic human cognitive functions for problem-solving and learning so that, connected to an ERP system, AI can help you make better decisions and work faster while reducing mistakes — or eliminating them altogether.
Top Trend: Internet of Things (IoT)
As more devices and systems are connecting to the internet, more data can be automatically integrated into your ERP system. Already, we encounter the Internet of Things in our everyday life, from our cellphones connecting via the cloud to our computers and other devices, to your Nest doorbell that can ring to your phone in your pocket.
IoT shows plenty of promise for ERP as well. Take for example the interchange of data between a manufacturer and a supplier. IoT provides your IT department with a seamless connectivity of data across all internet-connected devices and sensors, without requiring human intervention. Integrating IoT into your ERP system will make your processes smoother, more intelligent, and more flexible.
Top Trend: Mobile ERP
The pandemic that hit globally in 2020 made it more important than ever to offer mobile support for remote workers. This pushed the development of apps that connect users and systems through mobile devices, so they could work from anywhere.
Mobile ERP apps can do most, if not all, of the task traditionally associated with desk jobs, from sending push notifications, to creating and approving sales orders, and reviewing workflows. An audit trail of actions and notifications is kept in a central depository for anytime, anywhere access. This has made it possible for more work to be accomplished, faster and more efficiently than ever before.
For a comprehensive breakdown of leading ERP systems, head over to our directory of Top ERP Software Vendor comparison reports.