Wondering What CPQ Is? Here's the Lowdown on Configure-Price-Quote Software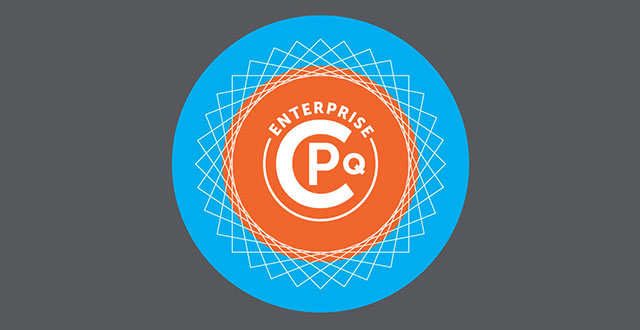 There's a new(ish) and relatively unknown acronym in town – that is, in the town of vendors, buyers and software enthusiasts. We've noticed the abbreviation CPQ popping up all over the place recently, including at Dreamforce 2013, prompting the Business-Software.com team to delve further into the blossoming industry.
CPQ, which stands for configure, price, quote, can be a tricky concept to wrap one's head around. It's multifaceted, relatively abstract and laden with industry-specific terms.
That's why we decided to break down what the acronym means, the purpose of the software, and which vendors are leading the sector. We'll also take a look at some of the configure-price-quote software vendors we saw at the Salesforce.com conference.

What Is CPQ?
Configure, price, quote, otherwise known as quote-to-cash, refers to the 3-step process a company undergoes in order to calculate complex service offerings for its customers:
Configure delineates the assembly of services and/or products
Price refers to the step whereby various business specs such as geography and local regulations are taken into account to establish a pricing structure
Quote represents the formulation of a proposal that cites what the service offerings will cost

In simpler wording, the quote-to-cash process streamlines product pricing, certifying that customers are quoted the right amount for the batch of products they want to purchase. This process also helps ensure that appropriate bundling and discounting rules are applied to each proposal, significantly reducing the amount of errors and inaccuracies present in a manual quoting system.

How Will CPQ Help Me?
Now you're likely asking "how will it help my business?" To start with, CPQ software was designed around the same idea that many of the best platforms on market address: simplifying processes that are traditionally known to be tedious and complex.
Increase efficiency –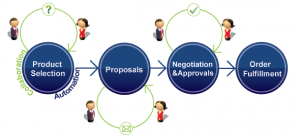 On the most basic level, a configure-price-quote application allows your sales team to quickly and more easily build error-free quotes for clients. It creates a database of sorts that allows team members to easily recall guidelines, bundling structures and and pricing schemes for previous proposals.
Optimize team productivity – If your company offers a large number of products that can be bundled to meet the needs of the customer, odds are your proposal-building process loses a significant amount of time to bundle adjustments, price revisions, accuracy checks and approvals. A CPQ solution will store the equivalent of proposal templates, making it easier to recall and utilize correct discount and bundling rules.
Establish proposal parameters – With CPQ, managers and administrators can set approved guardrails for proposals, ensuring that specified product bundles follow pricing parameters. This function means that managers can spend less time reviewing and correcting quotes, and gives sales members greater autonomy to finalize a proposal for approval.
In addition to the sales benefits gleaned from a CPQ solution, the growing number of vendors throwing their hats into the ring makes this investment more attractive. A larger pool of potential software providers means more competitive prices and increased odds that your company will find a configure-price-quote platform to meet your unique needs. Take a look at some of the top CPQ contenders below.

Quote-to-Cash Vendors We Saw at Dreamforce
The configure-price-quote providers were out in full force at Dreamforce last month – we counted at least half a dozen CPQ companies while perusing the expo floor. Here, we check out a few of the frontrunners, all with Salesforce integration (many of which are also native to the Salesforce platform).
Apttus – Apttus,

which was hands-down the most well-represented CPQ vendor at Dreamforce, offers software for contract and revenue management in a solution native to the Salesforce platform. The Apttus Configure, Price, Quote platform incorporates advanced pricing settings and an Excel-based quoting feature to help your sales team more efficiently configure client proposals.
Solutions: CPQ, Contract Management, Revenue Management
Select Customers: Google, Avaya, Time Warner Cable


BigMachines – Procured

by Oracle just last month, BigMachines offers a number of sales platforms designed to help businesses speed up, simplify and standardize their sales services. The company's CPQ offering is available as part of the Sales Engine solution, with an assortment of tools to help manage and streamline the proposal creation process.
Solutions: Sales Engine, Channel Sales Engine, eCommerce Engine, Document Engine
Select Customers: Coca Cola, Siemens, HP


CallidusCloud – CallidusCloud

provides a variety of solutions to help improve business operations, from sales and marketing products to human resources management. The company's CPQ solution aims to simplify proposal configuration with features such as an easy-to-use product configurator and a guided selling function.
Solutions: Marketing Automation, Sales Enablement, Sales Gamification, Configure Price Quote
Select Customers: Citrix, ING, Adobe


Cameleon Software – Cameleon Software

helps companies tighten their quote-to-order infrastructure with a range of CPQ-oriented solutions and services. The CPQ products provide increased flexibility, allowing you to control and generate quotes while on the move, and allow for rapid quote configuration.
Solutions: CPQ
Select Customers: Sage, Bausch + Lomb, Tyco


FPX – FPX

ensures an optimized sales pipeline with solutions that aim to consolidate functions from channel management to order and sales proposal configuration. The FPX Configure-Price-Quote software helps eliminate quoting errors, boosts sales processes with a guided function and secures shorter sales cycles.
Solutions: CPQ
Select Customers: Fujitsu, Blue Shield of California, Steelcase


Selectica – First

founded in 1996, Selectica adjusted its focus to contract lifecycle management in 2005 and recently added a guided selling platform to the mix. The company's CPQ software enables enterprise-scale companies with a large volume of requests to improve quoting speed and better manage pricing configuration.
Solutions: CPQ and Contract Management
Select Customers: AstraZeneca, Cisco, Susan G. Komen

Looking for more information on configure-price-quote software? Check out the in-depth guide CPQ 101: The Basics of Price-Configure-Quote Software from Selectica.