What Is Field Service Management Software?
Managing the day-to-day field operations of your business strategy is a daunting task. Without the proper tools, effectively organizing and supervising all ends of a company can often feel like leading an army without a battle plan. To help control the situation and manage your resources like a well-proven general, in steps field service management software. These platforms work to provide the insight both technicians and administrators need to make decisions, as well as automate tasks that would otherwise disrupt efficiency. When total victory is the only option, you should make sure you're locked and loaded with the right field service management solution for your business.
Today, field service management software normally falls into one of three general categories: field service management, GPS fleet tracking and fleet maintenance. The best of these solutions will offer a cloud-based SaaS infrastructure and mobile-optimized, browser-based accessibility to allow you access to critical operations from anywhere at any time.
With features like insightful reporting and monitoring, field service management actively works to get the most value from service teams while increasing customer satisfaction levels and support. Whether you're looking for something more general or catered to a particular need, service businesses across all industries can benefit from the improved communication and accurate information that field service management solutions offer. Continue reading our breakdown to learn more and discover a few of the best options out there.

Field Service Management Software
When representatives are out working hard on the front lines, a proper support chain of logistical tools and information is necessary to ensure their success. Your most basic field service management software will provide all the back-end features most business owners need to manage customer information, schedule appointments, track billing and measure efficiency.
By bringing all of these abilities into one unified platform, sharing the right data with the right people is fast and easy. Additionally, the best solutions will be able to automate dispatch and scheduling, and allow technicians to update data or generate invoices no matter where they may be.
Top Pick: FieldAware Field Service Management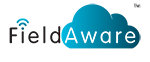 FieldAware Field Service Management helps businesses understand customer needs before they do. Users can access customer information such as assets or service contracts from any location, keeping representatives informed and clients happy. FieldAware manages inventory optimization from the delivery, warehouse and depot stages, as well as simplifies work orders and processes. For all of your scheduling, invoicing and quoting needs, FieldAware has you covered both on and off the field.
On top of providing a full set of base features, FieldAware Field Service Management also offers a Solutions Center to help integrate their platform with your current business systems and processes. FieldAware staff members will work with your company to ensure that all of your systems (CRM, ERP, accounting, etc.) seamlessly exchange information by utilizing the FieldAware API. FieldAware also provides training so that your personnel can maintain the configuration at all times on their own.
Features:
Self-service portal
Scheduling and dispatch
Work order management
Mobile apps
Service center
GPS Fleet Tracking
GPS Fleet Tracking Software is the shepherd watching over your flock. Apart from simply informing you of your fleet's physical location, fleet tracking software supplies better insight, extends the life of your assets and improves profitability. With flexible mapping and real-time tracking functionality, these solutions allow your drivers to observe traffic patterns and alternate routes so that they can make the absolute best decisions on the road to get where they need to go faster. Keep on the lookout for driver safety features like hands-free communication and unsafe condition alerts to get the most out of your system.
Top Pick: Teletrac Fleet Director

Offering one of the widest breadths of features is Fleet Director from Teletrac. Fleet Director not only helps administrators keep tabs on vehicle visibility every mile along the way, but offers an array of cost reduction features as well. Customers report savings of up to 30 percent on fuel spending, reduced insurance premiums, automated compliance and less driver turnover, saving you time and money every day.
Teletrac Fleet Director also incorporates several safety features to help protect your assets. Fleet Director will inform users when drivers are behaving recklessly with alerts for harsh braking, speeding and sharp turning. Fortunately, GPS functionality can alternatively serve as anti-theft protection, notifying you when your fleet is operating after hours, is traveling in an unauthorized zone or if vehicles have been moved without your knowledge. If you need extra protection, outfitting your fleet with GPS is a recommended precaution.
Features:
24/7 vehicle visibility
Improved safety
Mobile alerts at any time
Reduced liability and around-the-clock compliance
Fleet Maintenance
For companies facing high overheads in markets that demand greater agility and larger fleets, fleet maintenance solutions can reduce long-term operational costs and tighten control. To address the price of expansion, these platforms focus on budgeting fleets by tracking every element from fuel usage to maintenance records. Important features include ensuring regulatory compliance, extending vehicle life and usability and providing access to real-time vehicle data. To ease any burdens, look for software that integrates easily with your existing solutions, and can scale along with your business's needs. Consider supplementary features like mobile accessibility and deep archiving systems to round out the best match for your fleet.
Top Pick: Collective Data collectiveFleet

Collective Data collectiveFleet provides total coverage on fleet and asset information. In real time, collectiveFleet users can reference equipment data, manage daily costs associated with your assets, track equipment components and contacts, manage registrations and analyze lifecycle expenses through the Mission Control Dashboard. By having accurate and relevant information at their fingertips, business owners can extend the life of their equipment, reduce downtime and squeeze the absolute most out of resources through better preventative maintenance decisions.
CollectiveFleet's Advanced Parts Tracking system gets right down to the important details. With the customization and flexibility to meet your specific needs, collectiveFleet's part tracker allows you to monitor essential information on vehicle parts to extend your fleet's functionality even further. Lastly, collectiveFleet also includes a powerful and easy-to-use work order system through a specialized shop interface.
Features:
Detailed reporting and analytics
Reduction of unused inventory
Preventative maintenance management
Driver habit monitoring
Service estimates creation

For those interested in an in-depth comparison on all of the best field service management solutions available, head on over to our Top 10 Field Service Management Report to begin selecting that perfect fit for your fleet.
[Photo courtesy of Flickr user Doc Searls.]