What is Field Service Management?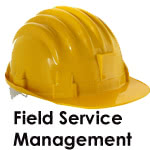 It's difficult enough to manage the ins and outs of a single office. Coordinating operations between field agents–maintenance workers, HVAC technicians, janitorial services, etc.–is an even more daunting feat, but addressing that need is precisely what field service management (FSM) solutions set out to do.
Field service management software is an integration of functions typically associated with other business software segments. Elements of inventory management, CRM, help desk-style ticketing, dispatching and others all come into play. The customer service implications of a quality field service solution can't be understated; if you're a contractor or some sort of service provider ensuring that your fleet is timely and properly equipped is one of your top priorities, and software that closely monitors agent schedules and dispatch orders is essential to maintaining that level of service.
There are a few trends to keep in mind when looking for a FSM solution that's going to be effective in actual field use. One is that mobility must be a priority. Common sense dictates that whatever software is deployed needs to be compatible on a wide range of mobile devices, be they specialized tools like RFID scanners or consumer-level devices like tablet PCs. The nature of field service work means that agents are going to spend the majority of their time, well, in the field, and will need that mobility along with the ability to sync with whatever central database the business maintains. Secondly, consolidation and integration of FSM tools into larger software suites like Microsoft Dynamics AX has become commonplace. While these systems can be unwieldy and pricey, especially for small-to-medium-sized businesses, the offer of functionality like seamless integration of FSM with accounting is worth looking into the option.
The Benefits
Timelier and better-equipped field service agents are naturally going to contribute a higher level of customer satisfaction among clientele.
A more efficient enterprise is almost always going to be a more cost effective one. Field service management solutions have the ability to drive down costs through better management and distribution of physical resources and inventory as well as fitting more service appointments into daily agent schedules.
Having a good field service management solution will not only help field agents organize their tasks, but grant managers and office staff a direct window into the business' daily operations that they might not have had before. This can be invaluable in the coordination of efforts across different departments.
The Solutions
In keeping with FSM's integration-heavy nature, many CRM systems from larger vendors like Microsoft, Oracle and SAP offer varying degrees of field service functionality. There are, however, many standalone solutions as well, and we put together a list of three of the ones we like:
Intuit Field Service Management ES
Intuit is, of course, mainly known for their ubiquitous Quickbooks accounting solution, but that belies the fact that they work on several other programs as well, including a robust FSM system. One of the best features of Field Service Management ES is the so-called Bird's Eye View, which lets the user get a real-time perspective on what each field agent is currently working on displayed on a single dashboard view.
Dataforma


Dataforma's roofing-oriented program offers all of the functions one would expect from a quality FSM solution, but what really sets this vendor apart is the level of customer support it grants to clients. 24/7 telephone support; on-site consulting for business, software and hardware/IT infrastructure issues and full live and online training programs go the extra yard in ensuring the solution will be a good fit.
FieldAware


FieldAware's cloud-based solution streamlines the field service operations across the board by automating field agents' timesheet calculations and having a remotely accessible job scheduling system that's shared between office and field staff in real time. Also, a built-in GPS function and compatibility with smartphones gives businesses the ability to cut costs by eliminating tertiary GPS systems installed in every service vehicle.
Want more comparisons? Get comparisons of the top FSM vendors by downloading the Top 10 Field Service report.