4 Key Features of Field Service Management Software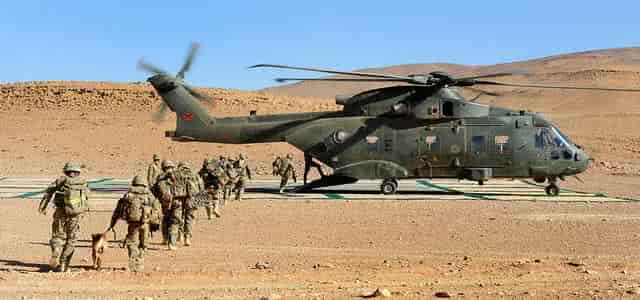 Before the telephone was invented, humans mainly used messengers to deliver information across whole states, countries and even continents. During ancient times, it could take weeks for a message to get from one city to the next, and the information could easily have been changed by the time the message was delivered. Today, we have field service software solutions that can deliver up-to-date information to your fleet of messengers and delivery workers in real time.
To see the importance of a field service solution, let's imagine what it would be like if the U.S. military didn't have a field service platform for a week. Within the first hour, communication from the military's intelligence headquarters to the soldiers on the battlefield would be lost and everything would be disorganized. Military helicopters wouldn't know where to land to deliver supplies to soldiers. Without that communication, the helicopters would be flying with zero guidance and the soldiers on the ground wouldn't know what was going on unless they were told to go to a specific pick-up spot. Maintaining a massive fleet of helicopters (or other modes of transportation) requires a field service solution that offers fast communication to each vehicle and keeps the fleet efficient and operational.

The Value of Field Service Software
To put it simply, a field service platform acts as a network for communication. It connects branches and divisions together using a combination of hosting and hardware. Now that technology is becoming more advanced every year, communicating to someone in another country is instantaneous. What's even more impressive is how diverse communication technology has become as new software platforms allow companies to communicate to their field agents, outside workers and distributors.
It's important to note that not every business needs a field service platform, as it requires your business to have a fleet of transportation vehicles and mobile workers. The software is ideal for companies that are in industries such as telecommunications, postal and package delivery and any field that requires technicians to go out to sites to fix, maintain or oversee a site.
Field service solutions provide many useful functions, but there are some features that are the core of what makes a field service solution so effective. To help you get more acquainted with these core features, we developed a list of the four key features of field service management software that you should keep an eye out for when looking for the right solution for your business.

1. Work Order Management

Work order management is the heartbeat of any field service platform, and work orders hold all the information necessary to complete a task for technicians. A work order management feature operates by delivering a client's work order to your back office, where it is then organized neatly into an easy-to-read format for your technicians to view.
When used on a mobile device like a smartphone or tablet, work order management allows your employees to simply turn on their field service app and flip through all the tasks that need to be fulfilled on one screen. This creates a fast-reacting, efficient and error-free process for both your technicians and customers.

2. Scheduling and Dispatch

Scheduling and dispatching functions help you easily schedule deliveries and keep in contact with your fleet at all times during the delivery. Most field service vendors offer a mobile scheduling and dispatch feature, which comes in handy to track whether technicians are on time to their assignments.
Let's suppose you're an IT technician whose job is to fix online networks for companies throughout your town. A scheduling feature can schedule jobs for you to finish, recognize when you've completed the job and then automatically assign a new job to you based on the proximity of your previous job location and by the type of job it entails. This allows technicians who like doing specific types of jobs to easily choose the same type of task to complete day after day if they please. Workers don't necessarily have to accept every task that is given to them, though having that flexibility is good in the long run for their productivity.

3. Service Tracking and Routing

Tracking and routing benefits any business that transfers goods — so any company that uses delivery trucks and big rig trucks absolutely needs this feature. Simply put, a routing feature maps out the most time-efficient route for your delivery trucks to take, while tracking is a method of monitoring your deliveries while they are en-route to their destination.
Before this technology existed, suppliers would have to rely on their workers to get to their destination in a set amount of time (whether it took a day or a month), and tracking their travel progress on the road was delayed beyond belief. Now, everything is instant and you can track where your assets are are every minute of the day. Top field service vendors have even gone further to change routes for their truck drivers mid-drive to find the best route that will save the most time.
Delivery companies like FedEx and UPS use real-time tracking to keep their customers informed of the status of their packages via emails, text message notifications and their main website. Giving your clients the convenience of knowing where their package is and how long it will take to arrive at its destination is paramount to ensuring your customers feel assured that everything is on schedule.

4. Remote Inventory Management

Inventory management is easily one of the most important features of a field service platform. Keeping track of all of your inventory both internally and externally is a must, as losing track of parts, tools and products can greatly cost your business. What's great about a remote inventory management system is that you can monitor all of your inventory from any location and make sure that each of your field workers is responsible for their corporate-owned tools and supplies.
Let's say that you own a plumbing company that has over 20 field agents ready to fix leaky pipes around your city. You provide a set of tools in a toolbox for each of your field agents that includes standard wrenches, measuring devices and such. An inventory management system can log each tool within the toolbox, making your employees responsible for letting you and the system know if any tools become lost or need to be replaced.
In addition to external inventory monitoring, you can keep track of all your internal inventory in your warehouse or office. This is a terrific tool for supply chain managers, warehouse managers and material managers. Take a big inventory company like Ikea, which makes stylish and easy-to-build home furniture. Every Ikea store has a big storage facility that holds all of the furniture parts for customers to pick up after browsing the store's furniture display area. Each store must have an inventory management system to keep track of the hundreds of furniture parts.
Inventory management helps the warehouse managers know how many of each furniture item is in stock, and helps employees quickly locate each box of parts at the customer's request. If an inventory management system did not exist in a place like Ikea, the employees would have to physically locate each box on foot with a paper map, which is a waste of man hours that can be allocated towards helping customers and other critical tasks. Overall, an inventory management system takes the hassle out of locating things manually and helps your business stay organized.

Download our free Top 10 Field Service Management Software Report to begin your search for the perfect solution for your business!
[Photo courtesy of Flickr.]