5 Lesser-Known Tips for Evaluating a Field Service Management Provider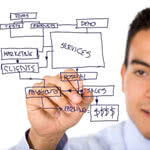 Field Service Management can radically improve the way your company does business, speeding up cashflow, shortening billing cycles and much more. However, as attractive a solution it is, business owners can sometimes dive in without considering some of the less obvious aspects of making such an important purchase.
Ease of Use
The most powerful and rich application in the world is never going to help your business if no one can figure out how to use it. Dense, complicated screens of information and unintuitive functionality can sink an otherwise brilliant piece of software. Make sure you and your staff are comfortable with the interface before you commit to a vendor. Have them attend the demos or share the videos and screenshots available. Ask if it looks like something they'll be able to use all day long. If they have trouble understanding the interface, they're unlikely to get the most of it.
Onboarding
Hand in hand with a usable interface is having a strong training and support team ready to help. There are terrific applications out there that look great and work great, but go unused because there was no real onboarding for the customer. They were handed a login name and password and left to figure things out on their own. Be clear with the vendor before you sign on the dotted line that you expect training and onboarding to be part of the agreed cost. Find out what their onboarding looks like and get specifics. Technicians will get two days of training, office personnel will get three days of training etc.
Customization
Some applications are perfect right out of the box–but not many. Especially when it comes to something as complex as running your business. Don't expect a vendor's out-of-the-box solution to fit like a glove. Ask the vendor how customizable it is. Can you create your own fields? Can you change color-coding? Can your add your own price lists? These questions will save you major headaches later when you realize the software can't adapt to how you want to work.
Update Frequency
It would be nice to think that a vendor could produce perfect software out of the gate. The truth is software evolves as customers use it and share their feedback. New features are added, interfaces are improved, performance is enhanced. The question becomes, "How often?" Do you have to wait years for updates or weeks? It tells you if the vendor is actively interested in continuous improvement or just phoning it in.
Security
When you enter your precious customer and financial data into a Field Service Management system you should be comfortable that your data is secure and safe. Cloud-based software can actually be more secure than traditional local software, but make sure. Ask if the vendor uses a secure data center with redundancy. In the event of a catastrophe, is your data backed up somewhere offsite? Is your data properly encrypted? Don't assume that the vendor is as concerned about your data as you are.
Ready to browse field service management solutions?
Check out our free downloadable comparison of the Top 10 Field Service Management Software platforms to review features and pricing options side by side. Discover additional resources on field service management software by exploring our Field Service Management resource page.