GPS Fleet Tracking vs Fleet Maintenance Software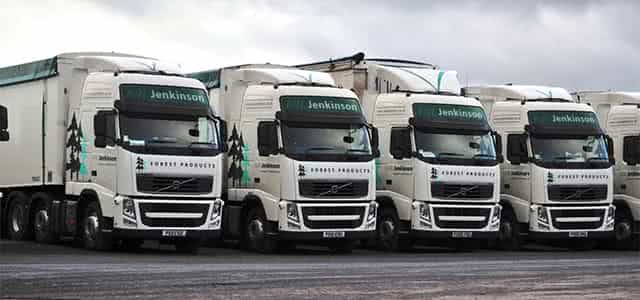 Without help, keeping track of where all of your vehicles are and which ones might need repairs would be an impossibly herculean task. To reach maximum productivity, your business needs a system that can streamline these daily operations, provide deeper insight and ensure the longevity of your vehicles with ease and efficiency. Easier said than done, right? Fortunately, like angels from above, GPS fleet tracking and fleet maintenance software descend with all of the functional tools and capabilities required to take the management of your business's fleet to a more heavenly state.
Since GPS fleet tracking and fleet maintenance software both address the needs of fleet operators, it can be confusing to determine which one is most suitable for your business. At Business-Software.com, we've done all the dissecting for you to provide a comprehensive comparison of the two separate yet similar competitors. So, without further ado, let's dive in to compare GPS fleet tracking vs fleet maintenance software!
Overview
GPS Fleet Tracking
GPS fleet tracking software provides real-time, pinpoint-accurate information on where every vehicle in your fleet is at any point in time. Whether you're trying to manage your fleet at the height of the business day or simply checking up on your assets from home after hours, GPS fleet tracking brings all relevant vehicle information to your fingertips, even when you're hundreds of miles away. Additionally, the combination of GPS tracking software and hardware provides your drivers with in-cabin navigational tools so that they are accurately and efficiently guided to their destination at every turn.
Fleet Maintenance
Fleet maintenance offers a more administrative, behind-the-scenes approach to fleet management. First and foremost, fleet maintenance software employs proactive measures that greatly extend the life of your vehicles. Leading solutions will be able to track any maintenance information required so that you know when it's time to make repairs or take your vehicle off the road for a tune-up.
These platforms provide incredibly detailed systems that can actively monitor all relevant maintenance data down to individual vehicle parts, putting your team in control of what needs fixing when. Despite not being critical in day-to-day operations, initiating and following through with these responsible maintenance practices will save you time and money in the future, and can really end up paying off in the long run.
Additional Features
GPS Fleet Tracking
Along with your standard GPS monitoring and navigation capabilities, GPS fleet tracking software can include a wider breadth of features that make them more valuable options to business owners. One of the great things about most GPS fleet tracking platforms is that they empower managers and drivers alike with real-time behavior monitoring. Key safety metrics on speeding, harsh braking, sharp turns and road rage can all be reviewed in order to improve driver competence and overall vehicle safety.
On top of that, GPS tracking solutions will also come with basic communication features like alerts and fleet messaging to help keep your team better connected. And don't forget, since you'll have a constant bead on your vehicles at all times, you'll feel more confident with the boost in fleet security and loss prevention that GPS fleet tracking provides.
Fleet Maintenance
Similar to GPS fleet tracking, there is more to fleet maintenance software than meets the eye. Along with general maintenance features, many solutions will offer a strong suite of work order, asset tracking or scheduling capabilities that help to make your fleet operations run more smoothly all around. In addition, platforms such as Collective Data's collectiveFleet include detailed inventory management and purchase processing features, turning the laborious process of buying and managing all of those tools and parts that much easier. If you're worried about running over your budget, Fleet maintenance software tends to include cost management capabilities along with detailed analytics, giving you the power needed to effectively manage the financials of operating a fleet of any size.
Overlap
GPS Fleet Tracking
As with many industries, there is a bit of competitive overlap between GPS fleet tracking and fleet maintenance platforms. We see this primarily with GPS fleet tracking software, which tends to include some forms of fleet maintenance along with its standard GPS capabilities. These features typically include the ability to schedule engine diagnostics, mileage tracking and basic maintenance for your fleet as needed. You won't see as in-depth maintenance tools as you would with standalone fleet maintenance solutions, but these basic preventative measures can go a long way in prolonging the life of your vehicles while improving safety and lowering insurance costs.
Fleet Maintenance
On the other hand, many fleet maintenance platforms have the option of further integration with the leading GPS fleet tracking platforms if they don't already offer GPS extensions themselves. So, if you need the in-depth maintenance capabilities of fleet maintenance as well as the ability to track your assets in real time, a best-of-both-worlds solution that fits your business is most likely available, albeit at a higher price point.
Who It's For
GPS Fleet Tracking
If you want to know where all of your vehicles are at any point in time, there's no way to get around employing a GPS solution. GPS technology is the most reliable way to track your vehicles, and to provide your drivers with accurate routing and mapping tools on the go. While these solutions do come with additional features, this function is really what you're paying for and what you might not necessarily find in the opposite camp. If you don't need the extra administrative systems and are simply looking for a way to improve driver efficiency, safety and management while meeting compliance standards, then GPS fleet tracking software is for you.
Fleet Maintenance
For larger fleets with too much inventory and assets to track, fleet maintenance software is the glue that's going to keep your fleet together and the grease that'll ensure it stays running smoothly. If you need a system that will not only track your vehicle information down to the part, but also help to manage your costs, organize your inventory and provide detailed analytics, then a more robust fleet maintenance solution is the way to go. By staying on top of all maintenance and administrative opportunities for you, fleet maintenance software makes the otherwise daunting task of proactively maintaining your fleet a manageable and efficient reality. Remember, with a fleet maintenance solution you can almost always integrate GPS functionality later on or in addition if needed.

If you're ready to start comparing some great software options for your fleet, take a look at our Top 10 GPS Fleet Tracking and Top 10 Fleet Maintenance Management reports today!
[Photo courtesy of flickr user Ray Forster.]