What Is Sales Acceleration and Why Is It DF15's Buzzword?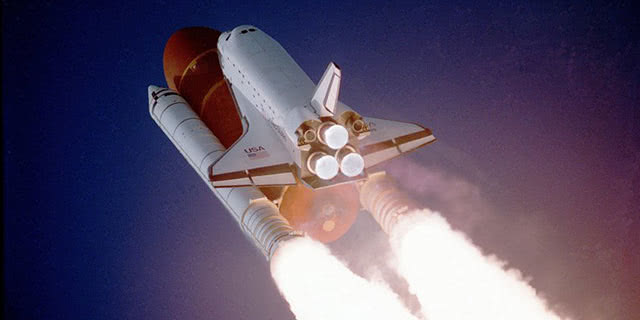 Similar to any Apple event or shuttle launch in Cape Canaveral, the buildup to the annual Dreamforce Conference in San Francisco is electric. With fresh billboards along the 101, an endless cascade of trending topics and list after list of this year's 'it' software segment, you can definitely feel the energy buzzing around Silicon Valley.
This year, one of those conference buzzwords is sales acceleration. Not unlike the Pumpkin Spice Latte, sales acceleration as a concept isn't new, yet the software world seems completely captivated with the idea. Before we take a look at the leading sales acceleration companies taking over Dreamforce, we need to fully understand what the segment is and why it's gaining so much traction in the market.
What Is Sales Acceleration?
The term sales acceleration is popping up on software sites all over the web, often with different definitions — and even more often, used interchangeably with sales enablement. For the sake of simplicity, the meanings of each are:

[Definitions provided by Forbes and Brainshark]
At Business-Software.com, we recognize sales acceleration as a component of sales enablement. If enabling your sales team is to provide the necessary tools to increase their productivity, then using sales acceleration and CRM tools in conjunction enables teams to see shortened sales cycles and improved conversions (much like an email marketing platform and marketing automation).
What's the Value of Investing in Sales Acceleration?
It's a safe bet that, if polled, any salesperson would be thrilled to put their company's buying cycle into overdrive — accelerating both the length of time it takes to close the deal and to receive their commission check. According to Forbes, "…companies spent $12.8 billion on sales acceleration technology last year in North America, which is $2,280 per sales rep." The rate of growth within the segment is explosive, with Forbes' research estimating "that North American businesses could spend as much as $6,790 annually per representative on sales acceleration technology by 2017 — making the total addressable market in excess of $30 billion."
While the numbers may seem astronomical, businesses that have implemented sales acceleration software and techniques have noted revenue growth of up to 300 percent. Sales acceleration software is meant to work hand in hand with other software solutions and offers a number of features to mend the gap between them.
Common Features Include:
CRM Integration

Out of all of the sales acceleration features, CRM integration is the most important. With the integration into CRM systems, teams will have access to current and potential customer information such as best method for contact, notes on which product they're interested in, who has sent them what information and more. With sales enablement giving your team the tools to build better connections, it's a no-brainer that you'll want your sales acceleration tool to fully integrate with your CRM platform.
Click-to-Call

Click-to-call functionality is another gimmicky-sounding feature — but once implemented, it's hard to believe you ever dialed manually. Rather than checking your screen, dialing on your office phone and potentially misdialing, salespeople can click the number on the screen and instantly begin their call. What's more, the phone call data is better tracked to be used for decision-making and process improvement down the line.
Advanced Reporting and Analytics

As with most software platforms, the reporting and analytics features alone are worth the monthly cost of the platform. While the features of sales acceleration software assist the salespeople directly, the reporting and analytics functions allow teams to capture and use data to further improve upon productivity — making the sales process even quicker.
Local Presence

Local presence allows sales teams to call prospects using an area code localized to the potential customer's location. At first glance, a local calling presence may not seem like a big deal — but when potential customers see an area code within their own city, the chances are higher that they'll take the call.
Inbound Routing

Intelligent inbound routing is imperative, not only for sales acceleration tools, but for any sales tool. Inbound traffic isn't always easy to come by, and teams don't want to lose out on a potential sale if the call is routed to the person with the least amount of experience with a specific product line or industry.
Three Sales Acceleration Vendors to Meet Up With at DF15:
With an assortment of sales acceleration vendors on the Salesforce AppExchange, attendees of this year's Dreamforce Conference are sure to see more than a few familiar names at the Cloud Expo. If you're considering sales acceleration software for your team, know that there are a variety of options available — sure to fit any need or budget.
Below are the three companies we're setting a little time aside for at the event, and we think you should too!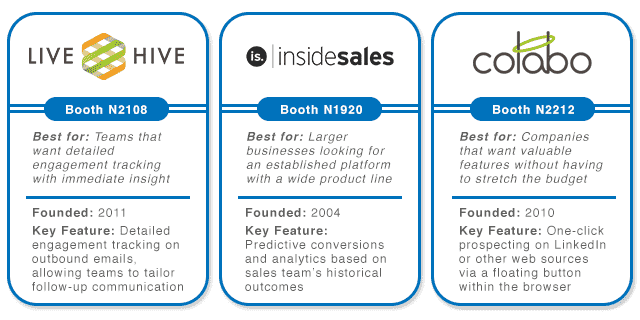 To learn more about the vendors attending the Dreamforce Cloud Expo, click here.
What Else is Happening at DF15?
The party isn't over yet! If you're in the San Francisco Bay Area, be sure to check out the Dreamforce Cloud Expo to meet one-on-one with the leading sales acceleration vendors (among dozens of others). Lastly, even the Free Expo+ passholders can attend the following events: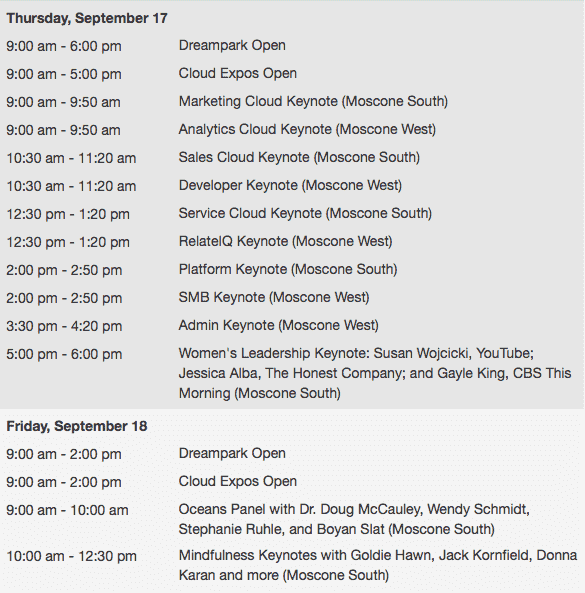 We want to hear from you!
Are you attending any of the Dreamforce Sessions or Keynotes? Send us a shout out on Twitter with your takeaway from the event!