5 Innovative Companies from the 2014 Dreamforce Exhibitors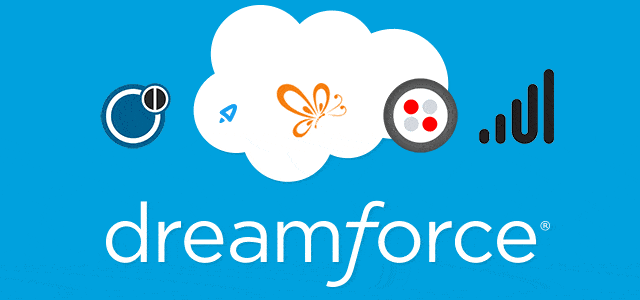 It's hard to believe that a year has passed since Dreamforce 2013, where the Business-Software.com team filled its pockets with swag and met a number of both established and up-and-coming businesses that have built their solutions on the Salesforce platform.
The 2014 Dreamforce exhibitors represent nearly every segment of business software, from HR to ERP to configure-price-quote (CPQ) solutions. Yet after examining the list of companies for our Dreamforce by the Numbers infographic, we found that most companies fall within one of five major categories: business intelligence (BI), sales tools, marketing, call center and data security software. Here, we'll uncover the coolest and most innovative companies from each of these major product categories.
BI: Roambi

Many of today's BI software solutions contain a mobile element for individuals who want access to on-the-go, data-driven insights. Yet Roambi takes mobile BI a step further by creating a solution that's cloud-based and what they call "truly mobile first." Designed to give users the best mobile experience possible, the 100-percent native application offers mobile data visualization tools so that users can better understand data.
The Roambi Flow tool lets users create rich "publications" and annotations that allow team members to present data and insights within the right context. Lastly, Roambi pulls data from various sources, meaning the data in your spreadsheets, software and databases can be accessed any time from anywhere, even offline.
Sales Enablement: Implisit

Salespeople love solutions that make their jobs easier, which explains why more than 10,000 users rely on Implisit to close more deals and improve productivity. Implisit uses complex algorithms to identify information from emails, contacts and calendar events, and automatically matches it with opportunities in your CRM. The solution deploys quickly — we're talking within one minute — because it works on the back end instead of relying on client-side technology. This marketing solution is all about reducing timely legwork and allowing sales teams to focus on what matters: nurturing relationships with customers.
Call Center: Twilio

In some ways, Twilio is like every other VoIP phone platform: the flexible API allows businesses to develop call center applications, intelligently route customers, monitor and record calls, utilize IVR and leverage text-to-speech capabilities. Yet Twilio isn't just limited to basic VoIP and call center functionality. The company also provides useful texting solutions that enable businesses to send and receive SMS text messages in any language to over 1,000 mobile carriers.
Twilio Client allows users to access real-time information about who's online and who isn't. The mobile application solution also works in the background, allowing you to access other mobile tools and apps while waiting for a call. Lastly, the Twilio Client solution is available as both an Android and iOS application.
Data Security: Okta

With major security breaches at retail giants like Target and Home Depot, both consumers and businesses have focused on data security over the past year. Even small and midsize businesses can lose trust and threaten profits over data security mishaps. For this reason, we weren't surprised to see that there were more than a few data security businesses in the 2014 Dreamforce company lineup. Okta is an identity and access management solution that allows enterprises to manage and optimize experiences for employees, partners, customers and products.
With Okta, businesses can create secure, extensible user profiles that centralize the users' diverse virtual identity into one single source of truth. Furthermore, Okta offers provisioning, de-provisioning, governance, automated user import and access and authentication policies. Unlike other identity solutions, Okta's extensive application network with thousands of pre-integrated apps allows businesses of all sizes to get up and running in less time, with fewer costs.
Marketing: Storyworks OnDemand

Storyworks OnDemand believes that how a company tells its story can have a major impact on sales and customer engagement. Storyworks is a marketing solution that helps sales and marketing teams better understand what content is working and why. After sending out presentations and product information, Storyworks alerts teams when their content is accessed or shared, allowing them to better understand what customers love, and what customers ignore.
In addition, Storyworks provides real-time analytics and actionable insight, so marketers know where they stand at any given point. The solution also lets marketers see what content their top salespeople use, so that they can assess which content and materials are most effective.

Want More Information on the 2014 Dreamforce Exhibitors?
In our Dreamforce by the Numbers infographic, we offer a visual snapshot of the 2014 Dreamforce exhibitors. For more on the Salesforce convention, head to the Dreamforce 2014 section of the Business-Software.com blog.