SAP BusinessObjects vs. Oracle Business Intelligence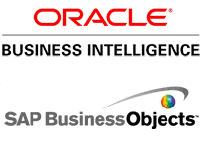 The global market for business intelligence software reached $12.2 billion in 2011, according to a Gartner report released earlier in 2012. The top five vendors in this space accounted for nearly 75 percent of the total worldwide market. Leading the way among them were SAP with $2.8 billion in revenue and a 23.6 percent market share in 2011, and Oracle with $1.9 billion in revenue to claim 15.6 percent of the market.
With these two software giants so clearly dominating the BI segment, a logical question—and one that we've seen before in the Business-Software.com Community—is how do SAP BusinessObjects and Oracle Business Intelligence Enterprise Edition (OBIEE) compare?
OBIEE Introduction
OBIEE is Oracle's flagship BI offering. It's a comprehensive suite of BI applications built around the key acquisitions of Siebel Analytics and Hyperion Solutions. OBIEE is a cross-platform solution written in C++ and Java. It offers a unified system for performing a range of analytics functions, including interactive dashboards, ad hoc reporting, enterprise and financial reporting, real-time predictive intelligence, disconnected analytics, and more.
OBIEE comprises a number of component applications. The foundation of the system is the Oracle Business Intelligence Server, a scalable platform for delivering data access and powerful calculations in an integrated web environment to users across an entire enterprise. Its unified architecture delivers a consistent experience across components, which include: Oracle BI Server, Oracle BI Answers, Oracle BI Interactive Dashboards, Oracle BI Delivers, Oracle BI Disconnected Analytics, Oracle BI Publisher, and Oracle BI Briefing Books, and Hyperion Interactive Reporting, Hyperion SQR Production Reporting, Hyperion Financial Reporting, and Hyperion Web Analysis.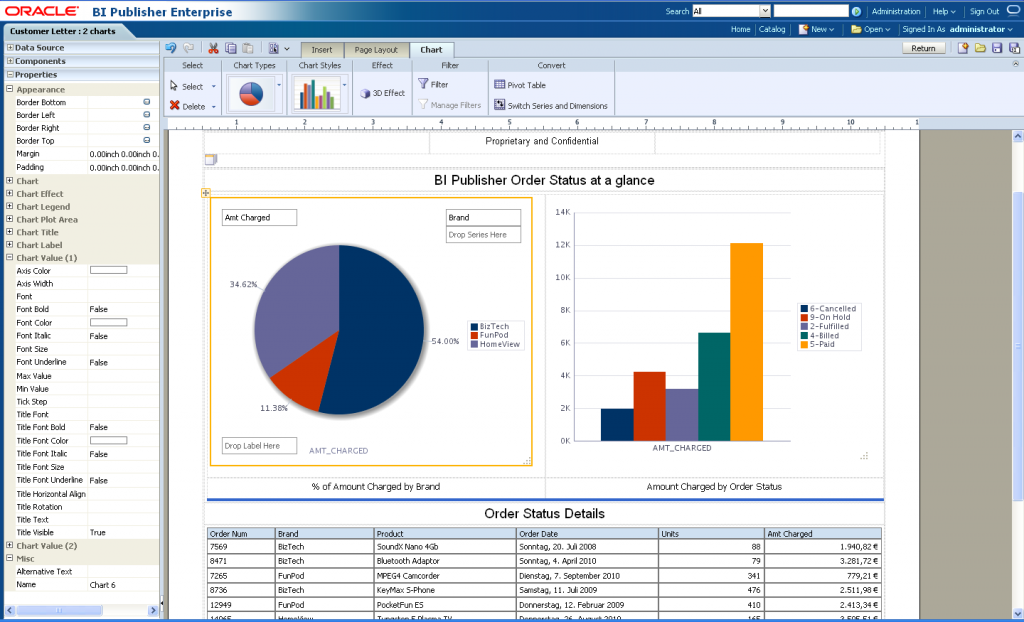 SAP BusinessObjects Introduction
Like Oracle, SAP became a leader in BI largely through strategic acquisitions. In 2007 SAP purchased the French BI powerhouse Business Objects for nearly $7 billion, and today the BusinessObjects name is still attached to SAP's flagship BI offerings.
SAP BusinessObjects is an easy-to-use, self-service BI suite that offers visibility into business data and performance in real time. Some of the key functions are customizable reports, the ability to analyze multidimensional data sources in both web and Microsoft Office environments, predictive analytics, flexible dashboards, mobility, and a flexible, scalable BI platform. From a features perspective, BusinessObjects is quite robust, and offers customers the ability to add modules as their needs change over time.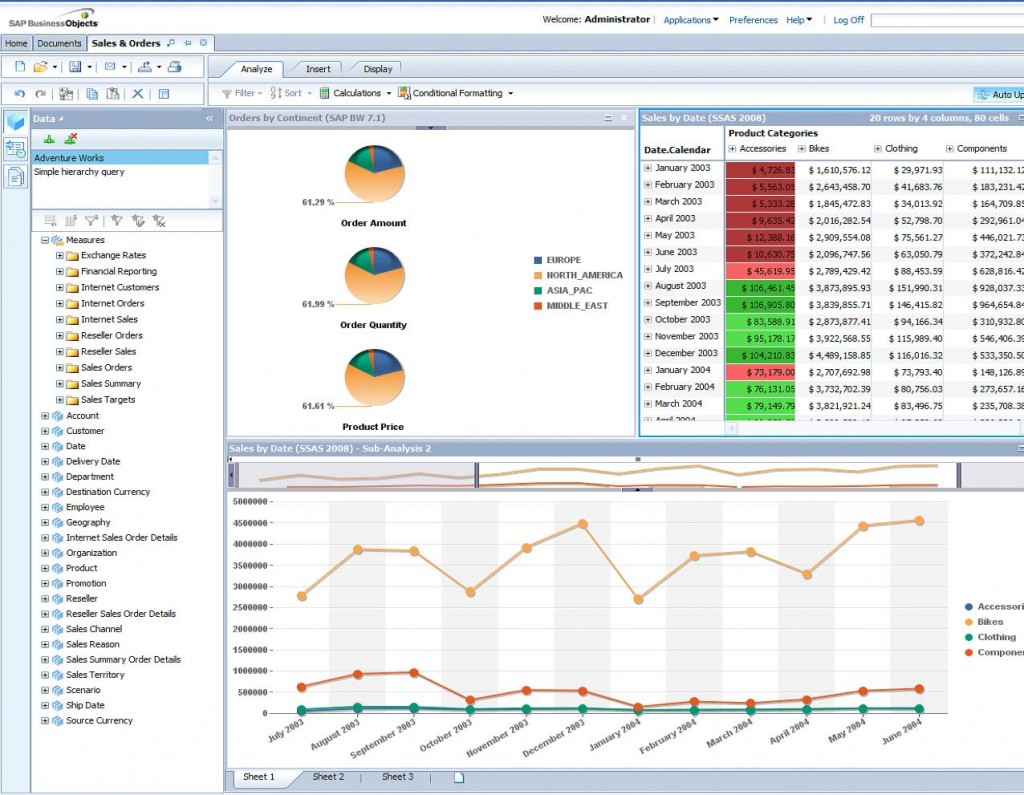 BO vs. OBIEE
Both BO and OBIEE have been positioned in the leader's quadrant of Gartner's most recent Magic Quadrant for Business Intelligence. In the Forrester Wave for Self-Service BI, released in Q2 of 2012, Forrester positioned SAP as a leader and Oracle as a strong performer.
In the self-service business intelligence segment, success depends on delivering fast performance, intuitive data visualization, and strong data exploration capabilities, and to that end, in-memory database management is all the rage. In fact, Forrester cites SAP's powerful in-memory DBMS as a differentiating factor for BusinessObjects. Whereas most DBMS engines are limited to analyzing "a few hundred" GBs of data at any one time, "SAP now offers a highly differentiated combination of BusinessObjects Explorer with its top exploration and discovery capabilities and the SAP HANA in-memory appliance."
Oracle had previously been lacking in the area of in-memory data analysis, but has closed the gap according to Forrester with the release of its in-memory BI machine Exalytics.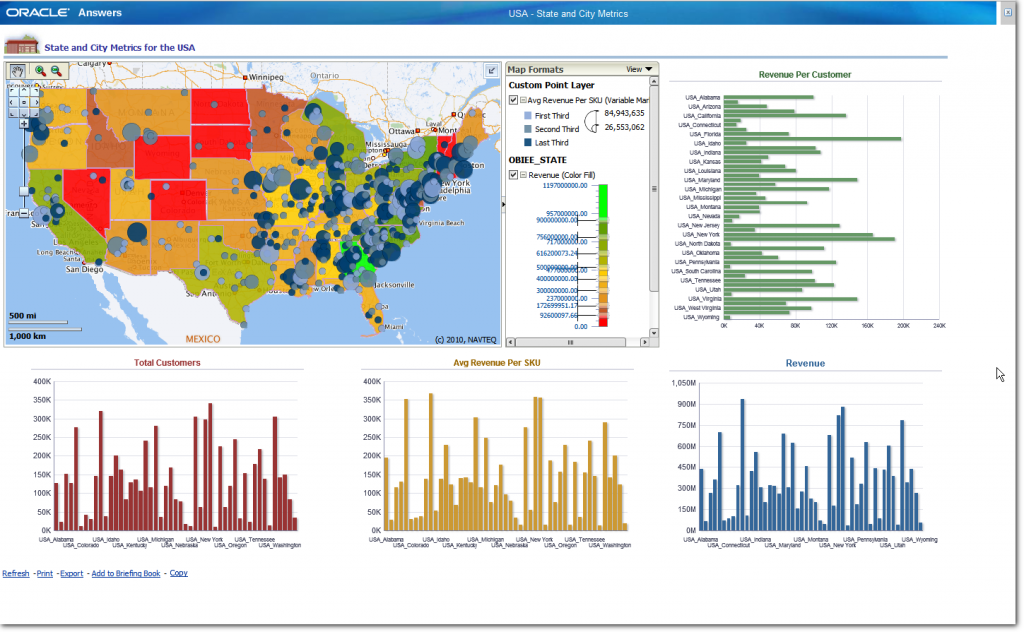 On the flip side, Forrester Researchers saw a need for greater integration and standardization across the diverse component applications of SAP BusinessObjects. "Beyond self-service, SAP still needs to tighten its product-to-product integration to close several integration gaps in its vast BI product portfolio, for example, its need for a more common UI and improved reusability of components." This is a particular area where OBIEE does quite well.
There are some interesting takeaways regarding OBIEE and BO from Gartner's Magic Quadrant for BI Platforms. Despite the fact that the two vendors are leading the market, both earned some fairly negative remarks. Oracle ranked "below average in functionality, support, and product quality," and SAP ranked below average for "BI functionality … performance, cost, and roadmap confusion." This begs of the question of why they continue to have such a significant market presence, but that's a whole different blog post.
Oracle customers tended to choose OBIEE over competitors largely because of its broad functionality. These same customers tend to ignore ease of use and cost when making their purchance. OBIEE is incredibly expensive, even compared to BusinessObjects, so for customers to ignore cost truly says something about what type of organizations are shopping for OBIEE.
If Gartner were to provide an answer to the question of OBIEE or BusinessObjects, it would most likely respond with "neither." Or at the very least offer a reasonable argument in favor of exploring some of the second-tier market leaders and challengers. BI is a steadily growing segment, and there are 100 vendors on the heels of these two titans that are vying for your attention.
What Now?
Check out our other handy posts on SAP accounting software and SAP ERP software to learn more about SAP's software products. For more information on Oracle solutions, peruse our profiles of the E-Business Suite and PeopleSoft.
If you're interested in big data software news or solutions, visit Business-Software.com's Business Intelligence resource page for the latest news on cloud BI and real-time analytics. To get recommendations on the best big data solutions, download our free report of the Top 10 Business Intelligence solutions.
Ready to compare a comprehensive list of top BI vendors?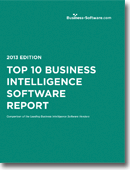 Now that you better understand the differences between SAP and Oracle in the business intelligence space, compare even more BI solutions. Download our Top 10 Business Intelligence Software report to compare the industry's top solutions by pricing, deployment models and key features. Not ready to make a purchase? Find more free resources at the BI Software Resource Center, where we've compiled product reviews, blog posts and exclusive interviews with emerging BI vendors.