If Raw Data Is a Thrift Shop, Top BI Tools Are Your Personal Shopper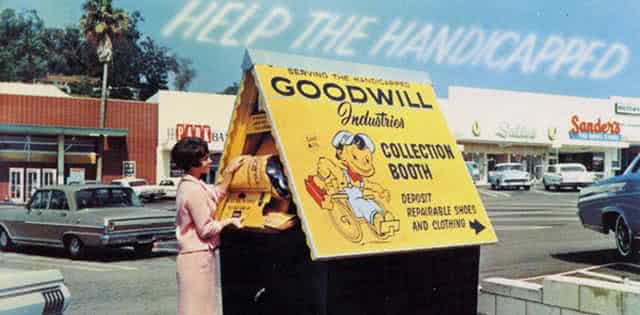 We've been hearing it for years: data is everywhere. In fact, 90% of the world's data has been generated in the past two years. With social and mobile trends booming, the world generates more information and data than ever before, with the potential to produce even more as time progresses. Yet despite this abundance of statistics, figures, facts and details, most businesses aren't reaping the benefits of a data-driven world. In fact, many companies are drowning in a sea of information overload, able to generate data, but unable to utilize it to drive success. Thankfully, that's where the top BI software comes into play.
Making Sense Of Data: How the Top BI Tools Can Help
Raw data is a lot like a thrift shop: there are great finds hiding within, but you have to sort through piles of endless junk (data) to find the hidden gems (actionable insights). While you could likely sort through the thrift shop on your own, it could take hours before you find what you're looking for. On the other hand, if you had a personal shopper or store expert (BI software) to do the sorting and organizing, you would be able to find exactly what you're looking for in less time.
To be useful, data must be accessible and presented within context. That is, data must be easy for users to edit and view, and a BI solution must serve the right insights and information at exactly the right time. For some businesses, that might mean mobile access is paramount, or for other companies, a simple, eye-appealing user interface might be essential. Either way, the top BI tools will present data to users cleanly and efficiently.
The best business intelligence software will net many benefits for your business. For instance, BI software can inform decisions made both on the bottom line and by corporate management. In addition, the top business intelligence solutions can be used to help companies establish a baseline from which they can measure success and track progress. This software analyzes figures, information and numbers across departments from multiple data repositories, centralizing it into one location (usually a dashboard).
Top 5 Business Intelligence Software Solutions
There are numerous business intelligence software programs on the market today. Yet, variety isn't always a good thing, since it makes finding the right solution for your business even more difficult. Here, we've broken down the top BI tools based on the unique problems your company might need solved.
SiSense… For Businesses Without An IT Department

SiSense is all about simplicity—but don't mistake that for less functionality. SiSense helps users combine and analyze data from various sources without requiring a full-time team to undertake data preparation. This end-to-end business intelligence solution unifies data, presenting information in one centralized repository that can be conveniently viewed on desktops, tablets and other web-enabled devices. Here are some of the key features your company will love:
Integration with applications like Salesforce and Zendesk
Data visualization
Mobile access
Real-time updates and notifications
Visually appealing, collaborative dashboard
SAP BusinessObjects… For Businesses With Lots Of Data

Coming from a powerhouse software vendor like SAP, users can expect a BI tool that is both robust and secure. SAP BusinessObjects helps businesses design and generate helpful reports, and offers an Explorer tool that lets users search through all intelligence sources and resources. The self-service nature of this top BI software makes it a great solution for companies that have various users who need access to data insights and analytics information. These are the key features your business will benefit from:
Intuitive, interactive user experience
Self-service portal lets employees access the information they need, when they need it
Mobile application allows users to analyze key metrics on the go
Intuitive visualization tools
QlikView… For Businesses Needing Industry-Specific BI Software

With solutions for more than 20 different industries, QlikView Business Discovery Platform is a top BI solution for businesses with unique needs. The platform utilizes state-of-the art graphics to visually display data in a way that makes sense to users. Even more, QlikView offers real-time functionality and consolidates data from multiple sources into one centralized repository. Here are the features your business will adore:
Directly or indirectly search across all data
Comprehensive mobile support to add and analyze data on the go
Real-time collaboration tools
Supports four primary job uses: finance, IT, marketing and sales
TIBCO Jaspersoft…For Businesses Seeking a Scalable Solution

In April 2014, TIBCO acquired Jaspersoft, a leading provider of embedded business intelligence and reporting software. Now, TIBCO Jaspersoft is a leading BI software solution that makes it easy to build high-quality reports that are both aesthetically appealing and informative. With five separate editions, TIBCO Jaspersoft can grow with your business, ensuring that you don't have to switch BI solutions as your company progresses. Here are five great features you'll love:
Reporting engine compiles data and renders reports in a variety of formats
Native app for both iPhone and Android devices
Data virtualization and integration
Audit logging records information about reports, dashboards and the users who view these materials
Various licensing options
BOARD BI… For Companies Looking To Develop A Custom BI Solution

BOARD combines business intelligence and corporate performance management software for a comprehensive toolkit that can be used to create unique software solutions. Essentially, BOARD offers all of the components or tools that one would need to build a custom BI application, without the costs and technical expertise needed to build such a solution from scratch. Here are the features you'll find useful:
Highly scalable development framework
Lets users build a custom BI solution without the high level of technical expertise usually necessary
Can be used to build simple reports or complex business performance analysis solutions
Want More Information On The Best BI Solutions?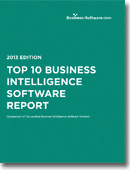 We know how hard it is to find a business intelligence software solution for your company. To help you compare the top BI tools, we've created the Top 10 Business Intelligence Software report, which provides a useful BI tools comparison matrix, along with information on top vendors.


[Image courtesy of Roadside Pictures]