Visual Decision Tools Make for Intelligent Business Practices: Why Your Business Should Hop on the Bandwagon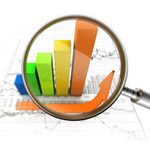 Pictures can say a thousand words, or so the phrase goes. It's not surprising, then, that companies are also finding this idiom to be true when it comes to business intelligence software. Data visualizations, from graphs to decision trees, succinctly organize valuable information into images that offer up valuable insight into many facets of company operations — if you know what you're looking at. Since it's now well accepted that graphics can indeed speak volumes (at least for business purposes), visual decision tools have become an in-demand feature for BI solutions, and with good reason.
The Benefits of Graphics for Making Decisions
A visual decision graphic interprets complex data and reshapes it into a readable, deduceable image or images. Essentially you're able to evaluate your past and current business operations — and how that information relates to the company's future — in an incredibly-easy-to-use streamlined interface.
So what's beneficial about such a tool? To start with, your company has the opportunity to track an incredibly large variety of KPIs and use the results to leverage better business practices and processes. If your company's current decision-making processes are too complex or don't quite meet your business needs, there's a good chance that implementing visual decision tools will dramatically improve how efficiently and effectively your company reaches conclusions for moving forward. Here are just a few more ways in which adding visual decision tools will positively affect your business operations:
Simplifies complex data. Though traditional BI tools can help a business better understand its analytics, a visual component provides the added benefit of being incredibly easy to interpret. What's more, even a company's most complicated and confusing metrics can be reconfigured into a simple and straightforward graphic. That makes it all the easier for your team to analyze and act quickly, helping your business maximize innovation and productivity.
Tracks and compares data more efficiently than manual processes. An application designed specifically to visualize business metrics in as simple a graphic as possible will save your employees time from manually inputting and tracking your data. There's no reason companies should still have their employees manually recording business metrics — so many tools exist in software programs today that it's just not an effective use of your resources to do so by hand.

Offers improved forecasting abilities. In addition to the increased efficiency an intelligent visual decision tool provides, it is also capable of making business predictions based on existing data better than you or your employees can. In order for a business to survive today, the company needs to be making incredibly accurate forecasts about the future of the business in order to remain relevant. A tool designed to offer intelligent business insights and induce better business practices will prove much more valuable to your company than your "gut feeling," whether you believe it or not.
What to Look for in Your Visual Decision Tools
When selecting a visual decision-making tool, businesses should be on the lookout for a platform that is mobile and scalable to your needs, offers comprehensive but easy-to-use tools, and lets you share metrics and visuals with colleagues. You'll also want a solution that can integrate easily with your existing data-tracking tools. Targit offers a decision suite that works with Microsoft Dynamics NAV and AV editions, while Palisade's DecisionTools Suite is compatible with Excel and Office, as well as Windows XP-8. If you find a platform that interests you, start with the trial edition (many companies, especially start-ups, offer a trial version) to get a feel for whether the program is a good fit without fully committing to it.
Though we're sure to see the types of visual decision applications expand as more companies commit to the process, we discovered 3 of the more common visual representations for organizing and assessing a company's historical data. You should consider which tool or tools will mesh best with your business needs, and search accordingly.
Decision Matrix — This format maps information in a chart model, of which there are many varieties (depending on the number of variables and product layout). It's relatively simple, but effective when a side-by-side comparison is the best way to yield relational observations.
Decision Tree

— The decision tree is a relatively popular display choice for visual decision tools, and almost like a family tree for your data. With a decision tree, you can organize complicated, multi-layered decisions so that all components are made visible through valuable connections.

Decision Ring — This tool displays the same information as a decision tree in a circular format. It allows you to divide up your data into pie slices of sorts, with different portions of the ring representing different stages or varying options, depending on your preferences. Targit's platform includes this model.
The NBT (Next Big Thing): Collaborative Decision-Making Tools
Another tool is brewing among business intelligence vendors; one that we see as the next generation of BI visual decision applications. Much like the aforementioned decision diagram tools, collaborative versions take businesses to the next level by transforming data visualizations into platforms visible by multiple employees simultaneously. The ability for many users to review and analyze these matrices fosters more creative problem-solving, since a group of employees can work as a team to not only examine the data but also work together to suggest which path to take or other ways to move forward.
Want more Big Data? Get the latest news on cloud BI and real-time analytics with Business-Software.com's Business Intelligence resource page. To get recommendations on the best big data solutions, download the free Top 10 BI report.