Dreamforce 2013 Swag Awards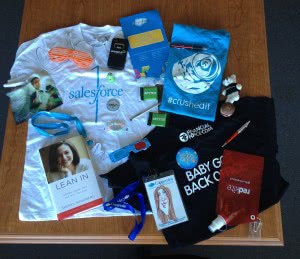 For those of us who made it to San Francisco, CA last week to partake in the craziness that is Dreamforce, a number of trends surfaced as the week of demos, exchanged business cards and musical performances came to an end.
For four days, Salesforce CEO Marc Benioff pushed health, women in tech and notions of a customer-centric world in every keynote. Yet as I walked around the carpeted expo, one thing in particular stood out to me—the swag (okay, that and all of the fun hippie costumes).
From comfy t-shirts and candy to Smart cars and Volkswagen buses, the Dreamforce Expo companies brought their A games when it came to freebies and giveaways. Of course, I grabbed at least one of everything I could get my hands on. Now that it's all piled on my desk, here's a rundown of the convention's best swag.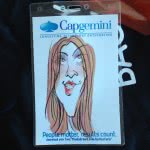 Most Random
In a room full of seemingly random swag, it was hard to determine a clear winner in this category. As far as I can tell, flashing sunglasses, Band-Aid dispensers and teddy bears don't have too much to do with software. Still, after browsing all of the goodies I received, I have come to the conclusion that Capgemini's caricatures were the expo's most random swag.
Despite spending more than ten minutes being digitally painted by a very talented local artist, I didn't learn about what Capgemini did until I looked them up online later that day. While I can't draw the connection between caricatures and consulting, I'll be hanging on to my picture for years to come!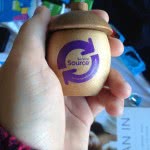 Most Relevant
ServiceSource went nuts at Dreamforce, providing expo-goers with purple and brown wooden acorns. Each of these acorns contained a tiny slip of paper that could be returned for a prize, which was, in my case, a cell phone screen cleaner.
While the acorns were cool on their own (our office is now littered with them), they are actually representative of the company itself. ServiceSource is a recurring billing service that helps companies increase their renewal rates. The company takes existing accounts (acorns), nurtures them and grows the company's revenue stream over time.
Most Expensive
One car giveaway would have been nice, but with more than 130,000 registered Dreamforce attendees, one car giveaway was definitely not enough. For this reason, we spotted so many cars on the expo floor that it started to feel more like a car showroom than a software convention. From sports cars to smart cars to a fancy new Tesla, companies like Salesforce, Apptus, TOA, Marketo and others were offering automobiles left and right.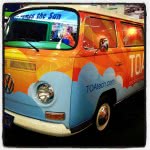 Of the many cars that were being handed out, my favorite was TOA's seriously groovy Volkswagen van. TOA is rethinking field service management by automating workflows and using a personalized approach to scheduling field service agents. As an enterprise-grade, on-demand field service management solution, TOA was the perfect company to host a car giveaway.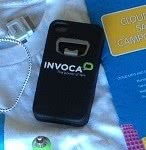 Best Phone Accessory
Phone chargers, screen cleaners and cases—the expo floor was crowded with phone accessories. While I made out with more phone swag than I could ever make use of, Invoca took the phone trend to a new level by handing out phone cases that included built-in bottle openers. Since Invoca provides high-quality mobile leads, the beer-opening phone cases were a fun swag idea. Plus, they came in handy at the after parties!
Most Practical
After Marissa Mayer's keynote on how she's shaping Yahoo and involving employees from the ground up, I was excited to see what Sheryl Sandberg had in store for audiences. Of course, Sandberg exceeded all of my expectations and brought much-needed light and humor to a topic that could have easily been dry.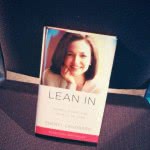 Although Lean In: Women, Work and the Will to Lead has sold more than 1 million copies, I happened to be one of the few people who hadn't read it yet. You can imagine my excitement, then, when I saw that every attendee was left a free copy of Lean In on his or her chair. Yay! As I probably would have bought the book myself (eventually), it ended up being the most practical swag at the convention.


Wish we scored it!
Although Business-Software.com was making its rounds on the expo floor, we didn't get to stop by every booth. Despite seeing Marketo at every turn, they managed to run out of both their fuzzy blankets and light-up purple sunglasses before I made it to their booth! Maybe we'll snag one next year!