Behind the Software Q&A with Zetta.net's CMO and VP of Products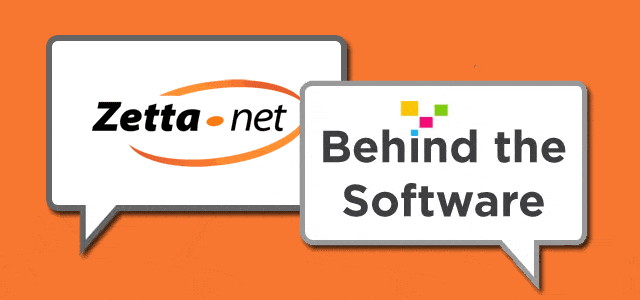 As companies increasingly generate huge amounts of data, the desire for robust, highly secure enterprise cloud backup solutions continues to grow. For our Q&A with Zetta.net, we spoke with Vice President of Products Chris Schin and Chief Marketing Officer Gary Sevounts about how Zetta.net stands out from other enterprise cloud backup solutions.
About the Company

WEBSITE: www.zetta.net
LAUNCHED: 2009
LOCATION: Sunnyvale, California
CUSTOMERS: GoPro, March of Dimes, Marketo
Tell me a little bit about Zetta.net. What business or IT challenge does your company solve?
Gary: Zetta.net is an enterprise-grade backup and disaster recovery provider. We have been in business for over five years, and we have over 800 enterprise customers and managed service providers (MSPs) that use or resell our product, as is the case with MSPs.
In terms of the IT challenges, the biggest issue companies' face is loss of business critical data. Zetta.net provides a secure and reliable cloud and local backup, archiving and disaster recovery solution to backup and restore data in the event of data loss.
Today, with rapid data growth, a lot of businesses are struggling with using online or cloud backup for backing up data, because many solutions usually top out in a couple hundred gigabytes, and can't back up data within 24 hours. With that said, the key advantage of our solution is performance.
With Zetta.net, we have customers that can backup and restore up to 5TB within a day. So we solved that particular problem of being able to back up large data sets online and more importantly, recover data within a small period of time.
So who are your target customers and how does your target customer play a role in the development process?
Gary: Our target customers are businesses, enterprises, and MSPs. We target folks who have IT organizations of at least one IT person in their organizations. We also serve MSPs who provide outsourced IT services for businesses. Now I'll turn it over to Chris to talk about how our target customers play a role in the development process.
Chris: Essentially, businesses and larger enterprises like higher educational institutions and government institutions have different data characteristics that they need to protect. For one thing, the amount of data that they need to protect is typically far in excess of what a consumer would protect with a consumer-grade online backup provider. Secondly, the type of data that we typically see in an enterprise tends to be a lot more, I'll use the word, dense—deeply nested file structures, application-related file structures, and things like that.
Also, the type of data itself tends to be different. In a consumer-based solution, almost everything that you need to back up is some sort of a file—a productivity document, an image, a song. Five years ago, Zetta.net started its evolution as a product that was backing up files predominantly. But as the market matured, we matured and began backing up things like structured databases, Exchange SQL types of databases, and so on, on a Windows system.
We then turned our attention to virtualization and image-based backup as well, for full server image backup. So in a nutshell, the target customer being a larger organization (with different characteristics of data) very much did impact our evolution as a product away from some of the more consumer-grade products.
Zetta.net experienced unprecedented growth in 2013. What has led to this growth and what sets Zetta.net apart from other cloud backup solutions?
Gary: There are three things: one, speed and performance; two, security and encryption; and three, overall quality and customer experience. Let me elaborate. Speed and performance are really the key differentiators, because there is no other solution—as far as we know—that can backup up to 5TB of customer data within 24 hours directly to and from the cloud. Typically you have limits like 200-300GB per day, which is not acceptable for larger IT organizations. We were able to solve that problem because our solution is cloud native and we have built our technologies based on the Internet. We have over ten pending patents around performance alone. That's what is really attractive for our enterprise customers and MSPs.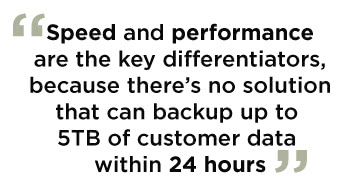 Number two, security and encryption. We're SSAE-16 audited, as well as HIPAA and ITAR compliant, to make sure that we meet the stringent industry regulations, ensuring that the data is secure and private.
And number three is the overall quality of experience in customer service. At the end of the day, we're servicing businesses, enterprises and MSPs. The data that we are protecting, as you know, is very critical to their business. We provide 24/7 engineering-level support from the U.S., and our churn rate, as a result is extremely low at just under 3 percent. To add to that, last year we achieved a 130 percent customer growth.
Wow! So, on the Zetta.net website it reads, "The explosion of business data has created demand for an affordable enterprise-grade online server backup." As data continues to grow how will it impact cloud backup solution providers and why?
Chris: This really gets at the core challenge for the cloud industry. Data growth is happening exponentially around the world, and using the internet as a data conduit is increasingly attractive to users. How do you make those two things come together in a way that makes sense? That's really what our company's products are designed to address. As Gary mentioned, we have ten patents that we have filed, and virtually all of them have something to do with the notion of moving a large amount of data over the Internet in a very short period of time.
I would say that performance—internet-based performance—moving data over the Internet is a continuous innovative process for us. It's a road without end, as this challenge increases as data sets grow and people continue to try to adopt cloud-based solutions to move them.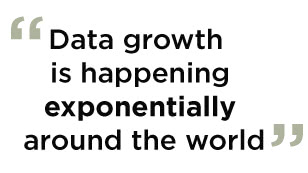 The last point that I will make is that we're increasingly seeing greater and greater bandwidth available to users with things like Google Fiber cropping up. You can even see, as we are creating technologies to adapt to today's bandwidth, that there's a time in the near future where there's a lot more bandwidth available for solutions like ours to take advantage of.
I know that you have already mentioned some of the things that set Zetta.net apart from other solutions. But what makes Zetta.net a great choice for businesses and enterprises in particular?
Gary: Three things: One, we provide three-in-one data protection functionality that includes cloud and local backup, archiving and disaster recovery that is incredibly valuable—from the cost perspective—less than what these other backup solutions would otherwise cost. In other words, we're delivering the vast functionality to businesses, enterprises and MSPs in a very attractive package. Before, this functionality was only available to large enterprises for significantly more money.
Number two, as we have been discussing, performance is a critical component of our solution. No matter how good the product is, if you cannot back up large datasets, it's a useless solution. And we've cracked that nut and are way ahead of the competition in being able to backup and restore large volumes of data.
And the third is ease of use, which speaks directly to the needs of IT. If you provide a list of advanced functionality, at an advanced speed and you make it really difficult, it's not going to be used by a lot of folks. Nowadays, IT people and MSPs are incredibly busy with many different projects going at once. You've got to make it very simple, as well as powerful.
The final thought here is that Zetta.net is a trusted solution. The above reasons are all great, but as I mentioned earlier, there is a lot of sensitivity about storing data online, especially sensitive data. Zetta is a trusted solution. We've been in business over five years. We have over 800 businesses, enterprises and MSPs as our customers, and we deliver advanced security, as well as performance. And again, we provide customer service that works 24/7 that is very friendly, proactive and responsive.
What are the big trends in cloud backup and recovery in 2014 and beyond? And how are these trends impacting future opportunities for Zetta.net?
Chris: I would point to what I touched on in the last answer, which is that we're seeing increasing data growth in the industry that needs to be protected. At the same time, we're seeing rapid increase in cloud-based solution adoption growth. The confluence of those two things will be a challenge for our industry and we think we are very well positioned—given the technologies that we have in place today—to be able to adapt to and win in that kind of a world.
The next thing we're taking part in, that has really started taking hold in the first half of 2014 is the emergence of recovery as a service or disaster recovery as a service (DRaaS). This is the idea that you will backup your entire server image across all your servers to a cloud-based provider like Zetta.net. Then, when required, the cloud-based provider will provide you with a server implementation where you can spin that server image up in the cloud provider's infrastructure, and access it while you are rebuilding your server file locally. DRaaS solution is a bit like a business continuity solution, allowing enterprises to take advantage of a third-party infrastructure, i.e. Zetta.net, to run their server images while they are trying to recover from a disaster. It speeds up the time to recover because there isn't much recovery as much as there is a simple spin up of a replica of the existing infrastructure in the cloud. And the ability to spin up server images in the cloud requires the speed and performance that is Zetta.net's core value proposition.
Looking for more resources on IT management? Brose top product reviews and blog posts about mobile device management, IT help desk solutions and IT infrastructure monitoring on the IT management resource center. For comparisons of leading products, download one of our ten free IT Management Software Reports.
CMP