Top 10 Ecommerce Software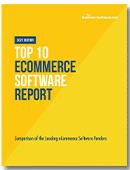 We've just made it a lot easier for you to find the best ecommerce software. Our Top 10 Ecommerce Software Vendor Report reveals:
The top 10 ecommerce software vendors you should consider
Published vendor pricing
Highlights of each vendor's strengths
Vendor background and contact information to get you started
How the right ecommerce software can help you significantly increase sales, improve operational efficiency and maintain customer satisfaction
Many companies rely on their online marketplace to reach additional customers and increase revenue. Online stores provide customers with 24/7 access to products and aren't limited by the costs traditionally associated with operating a physical store. Ecommerce software helps organizations manage virtual stores by offering end-to-end tools that span website creation, maintenance, online products and transactions, marketing and promotions, payment processing and reporting.
Please register below for immediate access to this report.