Top 10 Electronic Medical Record Software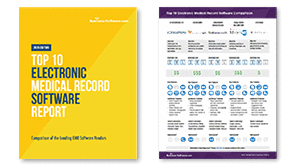 We've just made it a lot easier for you to find the best EMR software. Our Top 10 Electronic Medical Record Software Vendor Report reveals:
The top 10 electronic medical record software vendors you should consider
Highlights of each software vendor's strengths
Vendor background and contact information to get you started
How the right EMR software vendors can provide your company with increased revenue and easy access to medical records
Medical practices need EMR software in order to improve documentation and accuracy, gain better access to medical records and patient information, reduce malpractice costs and medical errors and generally improve the quality of patient care and customer satisfaction.
Please register below for immediate access to this report.