Top 10 IT Help Desk Software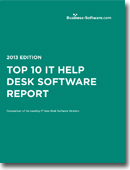 We've just made it a lot easier for you to find the best IT help desk software. Our Top 10 IT Help Desk Vendor Report reveals:
The top 10 IT help desk software vendors you should consider.
Highlights of each vendor's strengths in IT help desk.
Vendor background and contact information to get you started.
How IT help desk software will better manage your service/support desk.
Today's IT help desk software solutions are robust applications that can increase staff productivity, reduce IT support costs, accelerate problem resolution, and increase employee morale and retention. IT help desk software automates, centralizes, and streamlines the end-to-end process of reporting, managing, and resolving employee technical issues. These powerful software applications enable IT departments to effectively troubleshoot and solve employee technical problems.
Please register below for immediate access to this report.