Top 10 Lead Management Software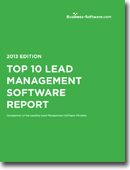 We've just made it a lot easier for you to find the best lead management software. Our Top 10 Lead Management Vendor Report reveals:
The top 10 lead management vendors you should consider.
Highlights of each vendor's strengths.
Vendor background and contact information to get you started.
How to improve marketing execution with latest Lead Management software.
Lead management software packages are powerful solutions that automate and enhance the many manual processes involved in the handling of leads throughout their lifecycle. Sales and marketing teams at businesses large and small can benefit from today's lead management software. Learn more about lead management and find out how you can increase your revenue and keep your sales pipeline flowing.
Please register below for immediate access to this report.