Top 10 Marketing Automation Software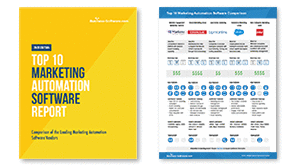 We've just made it a lot easier for you to find the best marketing automation software. Our Top 10 Marketing Automation Vendor Report reveals:
The top 10 marketing automation software vendors you should consider.
Highlights of each vendor's strengths.
Vendor background and contact information to get you started.
How to improve marketing execution with latest marketing automation software.
Marketing automation software streamlines, automates, and enhances the planning and deployment of your marketing campaigns and promotions. Using marketing automation software, your marketing team can coordinate marketing activities, eliminate tedious manual tasks, and minimize redundant procedures that waste time and money.
Please register below for immediate access to this report.