Top 10 Medical Billing Software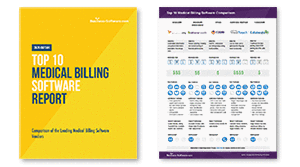 We've just made it a lot easier for you to find the best medical billing software. Our Top 10 Medical Billing Software Vendor Report reveals:
The top 10 medical billing software vendors you should consider
Highlights of each software vendor's strengths
Vendor background and contact information to get you started
How the right software will ensure timely medical billing service
The best medical billing software does far more than just process claims, it follows up with insurance companies, appealing denials and working rejections, no-pays and slow-pays; offers collaborative tools designed to boost your revenue; and manages patient payment plans.
Please register below for immediate access to this report.