Top 10 Mobile CRM Software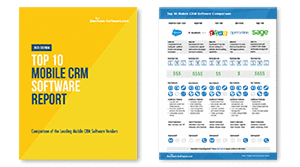 We've just made it a lot easier for you to find the best mobile CRM software. Discover the advantages of mobile CRM software and find the right vendor for your needs. Compare mobile CRM solutions from leading vendors to help guide your software purchase.
Our FREE Top 10 Mobile CRM Software Vendor Report reveals:
The top 10 mobile CRM vendors you should consider.
Published vendor pricing.
Highlights of each vendor's strengths.
Vendor background and contact information to get you started.
Details about the benefits of mobile CRM software.
Mobile CRM software allows remote employees – such as sales representatives, service staff, and support teams – to access customer data and interact with clients while they're on the road. Today's mobile CRM solutions work on cell phones, Blackberry devices, Windows Pocket PCs, and other Web-enabled handheld devices.
Please register below for immediate access to this report.