Top 10 On-Premise CRM Software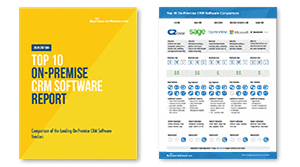 On-premise CRM, also known as licensed, on-site, or in-house CRM, is a customer relationship management application that is housed at a client's location and managed by its own employees. It gives you complete control over your entire customer relationship management environment.
Our Top 10 On-Premise CRM Vendor Report reveals:
The Top 10 On-Premise CRM vendors you should consider.
Published vendor pricing.
Highlights of each vendor's CRM strengths.
Vendor background and contact information to get you started.
Why On-Premise CRM might be a better fit for your organization than Hosted/OnDemand CRM.
Download our free Top 10 On-Premise CRM Software report and see what the top 10 On-Premise CRM software vendors bring to the table. Our free report will help make your purchasing decision easier by providing an in-depth analysis of the top CRM solutions.
Please register below for immediate access to this report.