Top 10 Retail Management Software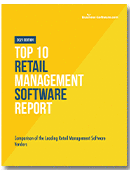 We've just made it a lot easier for you to find the best retail management software. Our Top 10 Retail Management Vendor Report reveals:
The top 10 retail management software vendors you should consider.
Highlights of each vendor's strengths in retail management.
Vendor background and contact information to get you started.
How the right software will help you automate retail processes and store operations, provide centralized control for multi-store retailers, and integrate with other popular ERP, Accounting, and other applications.
Every retailer deals with an increasingly complex sales environment on a daily basis. From storefronts to catalogs to eCommerce, the myriad retail channels can be tough to manage. But with a Retail Management System (RMS), retailers can easily navigate the waters. The right RMS can help you streamline point-of-sale processes, manage prices, merchandising, and multi-store inventory, and more.
Please register below for immediate access to this report.