Top 10 Web Conferencing Software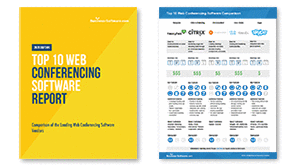 We've just made it a lot easier for you to find the best web conferencing software. Our Top 10 Web Conferencing Vendor Report reveals:
Comparisons of the key features of leading web conferencing software vendors.
Highlights of each vendors strengths and featured customers.
An overview of web conferencing software solutions and industry trends.
These days, travel isn't cheap. Many companies are finding web conferencing software to be a valuable alternative to sending employees to remote meetings. Robust features and functionality of today's web conferencing software solutions facilitate the same kind of open communication and collaboration that takes place during face-to-face interactions.
Please register below for immediate access to this report.