Top 20 ERP Software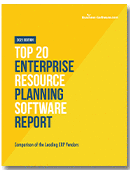 Our Top 20 ERP Software Vendor Report includes:
Analysis of the Top 20 ERP solutions of 2014.
Highlights of each vendor's strengths.
Key background information on each vendor.
Research on how the right ERP solution can help your company run more efficiently.
Download our free Top 20 ERP Software report to learn more about the top ERP software vendors. Our report includes in-depth analysis of the top vendors' strengths as well as research into the vendors' corporate backgrounds. Our report will help you compare the Top ERP solutions to find the right solution for your company.
Download our FREE report today and start your search for a new ERP software solution.