2013 Workforce Management Technology Trends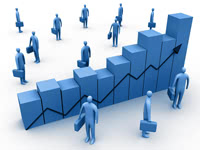 Workforce management, an amorphous amalgamation of services and functions that are often partially or fully subsumed under the titles of HRMS and ERP, is undergoing a rapid and irreversible change in 2013. As previously distinct business software packages widen their influence to create Venn diagrams of interconnected, integrated, and downright redundant systems, new demands are being made of both the technology itself and of the people responsible for its selection, maintenance, and use. As we will see through this survey of the biggest industry trends in 2013, the question is no longer what the positive effect of a single change might be, but rather how a given technology, attitude, or strategy will benefit the living organism that businesses have become.
Integrated Analytics
Easily topping the list of trends that will have the biggest impact on workforce management in 2013 is the need for integrated analytics, which is a convenient way of slipping the Trojan horse of integration in with the pitch for big data. In short, executives began to open their eyes to the power of measuring everything in 2012 and after seeing huge results in measuring customer activity; companies are looking inward and beginning to measure their expenditure, efficiency, and employees with the same scrutiny. The spoiler is that data without context is useless, thus workforce analytics without integration is only as good as an ESPN report that gives you the scores without telling you who played. Workforce analytics must be able to inform, "talent management, accounting systems, and CRM," in addition to accommodating, "cloud-based systems, social networking, and workforce mobility." Needless to say, it seems that all departments will be scrambling to figure out exactly what integration means in operational terms before the year's end.
Remote Management
Contrary to the hype surrounding Yahoo! and Best Buy's now infamous office-only policies, the benefits of a schedule that allows for flexibility in working remotely is one that has not gone unnoticed by the silent majority of businesses. As HR blogger Erin Osterhaus stated simply, "Without a doubt, HR will increasingly have to tackle the challenge of managing a remote workforce." This means a new set of features that workforce management systems will be forced to accommodate to remain relevant in the market. Winners will be those that find ways for employees to log hours, collaborate on projects, and communicate just as easily remotely as they do in-person.
Flexibility
Describing any technology as "flexible" is a vague and largely meaningless designation, but in the context of workforce management it refers to a remedy for a specific, "rip-and-replace," cycle that has plagued the industry for years. The problem lies in purchasing a proprietary workforce management solution and quickly concluding that your system is woefully unequipped to work alongside any of your other enterprise systems. In the past, the answer was to either scrap the entire system or pay for costly vendor upgrades only to repeat the process in six to twelve months. Finally, however, workforce management systems have become dynamic and modular, able to adapt as needed to a company's existing network of heterogeneous technologies. As Kevin Choksi, CEO of WorkForce Software, describes it:
Standards-based design significantly eases your ability to integrate your workforce management platform with other enterprise systems, and field-configurable rules reduce the costs and effort of adapting the solution to new policies or business requirements. These advantages give you greater control over the long term use of your workforce management platform, and eliminate the pattern of upgrades brought about on a vendor's timeline, rather than yours. You cut the check, so you should be in the driver's seat, and a flexible design is essential to your preserving that control.
New Recruiting Tools
High unemployment means a great pool of available candidates right? Wrong. A recent study by Bersin & Associates found that, "51% of companies struggle to hire the right talent despite high unemployment." That's a staggering figure. Though hiring is sometimes considered outside the realm of workforce management, it would be a mistake to consider prospecting a secondary business need. Despite that unemployment is high; in a job market that is slowly phasing out generalists the competition for qualified applicants is fierce. Thus the new generation of workforce management software aims to help companies, "identify specific skill sets among the talent pool and track these skill sets as well as identify areas that still need to be developed." Likewise, a workforce management system with integrated analytics (see above) can be used to, "identify potential leaders and track their development in preparation for future roles."
Reflecting on Statistics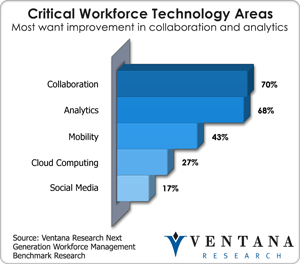 In a thorough survey of executives and employees at a wide range of organizations at the end of 2012, Ventana Research investigated perceptions of their companies' current workforce management systems and where they thought their employers could improve. Among the most commonly identified goals were higher productivity (63%), improving inconsistent execution (48%) and solving the problem of scattered information (44%), the latter two of which Ventana suggests, "result from not using dedicated applications for workforce management." A colossal 92% of organizations reported using spreadsheets in every department yet 42% admitted that they are a poor tool for workforce management as many can attest. As if yearning for something they didn't know exists, the most desired capabilities were assigning goals and tasks to workers (56%) and providing avenues of communication to resolve issues (52%). Perhaps the most interesting result of Ventana's research, however, if only for the crystal clear message it sends to vendors, is that, "usability was the most important technology consideration (81%). But to get that technology, setting the business case is essential, as justifying a budget for investment (63%) is the largest challenge."
The beauty of Ventana's data is that it predicted what we've already witnessed in 2013: as workforce management systems become flexible and affordable, they become a far more effective option in the long-term compared to traditional closed circuit solutions while remedying a number of operational headaches in the short-term. If the human body can be considered a model for the collection of limbs that comprises a modern enterprise, it only makes sense to treat the diseases of poor communication and insufficient information instead of their symptoms. It's possible that the adoption scale will not reach its tipping point in 2013 due to executive reticence surrounding large-scale investment, but it is now safe to say that workforce management systems will be ready and waiting when the old guard comes around.
Download the FREE Top 10 Workforce Management Software report for comparisons of the leading workforce management solutions. Stay updated on the latest workforce management and human resource trends on our Human Resources research center page.