3 Key Things to Look For in an IT Hosting Company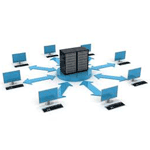 Finding good IT managed services can be tricky nowadays. This is especially true for small business owners who are on a tight budget or just switching over to the cloud. For many, the advertising copy for IT hosting services can sound like an entirely different language.
As a business owner it is essential you know what you are getting yourself into and whether or not your potential host is providing you with the services you need, no more, no less. Here are the 3 essential things every business owner should be looking at when shopping for an IT host to make sure they are getting the right services for their money:
IT Hosting: The 3 Key Features
Backup and Disaster Recovery
When you put the all of the data regarding your business in the hands of an IT host it is essential to know it is safely guarded and backed up. Look for a company that backs up your data on a daily basis and is able to verify it with you. Make sure the company shows they have a clear and concise disaster recovery plan in case the worst should happen. One of the biggest perks to having IT Management is having an offsite data center that ensures your business data is safe if something happens to your place of business.
Ability to Accommodate Your Growth
Any good IT management provider will help you plan for the future. They should be willing to have regular meetings with you about any upgrades or changes in technology to help accommodate your needs. Set an annual budget meeting with your provider to ensure you get the most for your money and have enough storage space in your data center(s) to allow growth. Many providers will offer you great deals where you only pay for the data storage you use but have more readily available. Monthly reports are also a must from the host to show consistent reliability and stability.
24/7 Support
Whether contacted by email, web, or phone, your provider should always have some sort of readily available support. Many IT Management providers also offer third party vendor assistance which means that if there is a problem with your internet connection or any other technology related issues, the managed services provider will contact the appropriate vendor take care of the problem. Furthermore, in your contract you should make sure that there is a guaranteed response time for regular business hours, after-hours, holidays, and weekends. These are specific Service Level Agreements (SLA) that should meet the needs of your business. A lot of IT Management providers don't have night or weekend shifts but they will have technicians and/or engineers on call that will get back to you in the allotted time.
Whether your business is entirely online or you just certain departments it is important to do your best to secure your data. Aside from these there particular keys, do your basic homework when searching for IT management. Consult with many IT specialists before making a decision on your provider. Ask for a specific company's track record or references. Above all, make sure you are clear on any additional costs and durations of service.
Want more on Cloud Hosting Software? For comparisons of the best IT cloud hosting software, download Business-Software.com's Top 10 Cloud Hosting Software report.