4 Essential Tools for Growing Your Small Business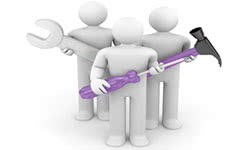 When you started your business, you may have had visions of customers beating down your door to buy from you. Unfortunately, growing a new business takes a lot of hard work. Luckily, there are a bunch of tools that will help you grow. Here are four essentials:
1. Social CRM
A social CRM, such as Batchbook, will help you organize your contacts and build better relationships with them. When you are just getting started, you likely won't have a ton of customers or contacts. Leverage the relationships you do have by staying in touch and providing great service for every sale.
Social CRM software will let you see everything you know about a contact in one place, so you can be more efficient in your communications. By helping you build better customer relationships, this tool will make it easier for you to build your business on a strong foundation of happy customers who are willing to spread the word about you!
Its never too early to start doing email marketing. Email software like MailChimp makes it easy for you to set up an opt in form on your website and to design compelling email campaigns.
If you have a newsletter, make sure that you make the sign up form prominent on your website. Be sure to give your customers a good reason to sign up by offering special discounts or helpful information.
As you build your list, it will become a go to place for helping you get sales when you need them most.
3. Accounting Software
The success of any small business can often be determined by a razor thin margin of income vs. losses. You need a tool that will help you stay on top of your invoices and to make sure your cash flow stays at a healthy level.
Choose a cloud solution, such as Xero, when it comes to accounting. This will make it easier to get help from an accountant, who will be able to access your books remotely. It will also give you peace of mind knowing that you can get to your financial history, even if your computer crashes or you are travelling.
4. CMS Software
A good website with a lot of traffic is a boon to any small business. However, getting that traffic is not easy. You can tip the scales in your favor by filling your website with a bunch of useful content. By keeping your content fresh and interesting, you will keep customers coming back as well as attract new visitors.
A CMS, or content management system, will make it easy for you to add new content to your site pages or blog without having to worry about doing any advanced coding. One of the most widely used CMS tools is WordPress.
Tools alone will not turn your business into an overnight success. But by having them in your toolset, you will have an easier time growing your new business.

Want to browse more content on solutions recommended by top industry experts? Visit the Expert Picks & Reviews page of the Business-Software.com blog to peruse all of our software recommendations.