40% of Customers Buy More with Personalized Messaging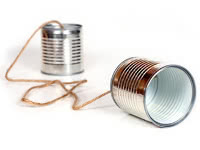 The Challenge:
If you are not creating a personalized preference-driven experience for your customers, they'll go looking for that type of experience–with your competitors.
According to a study by MyBuys, an e-tailing group, 40% of respondents stated that they buy more from retailers that personalize their shopping experience across channels. Additionally:
• 41% buy more from retailers that send them personalized emails
• 39% buy more from retailers that personalize Web recommendations.
The study noted that the practice of tailoring offers and promotions to consumers based on their past shopping or browsing experiences appears to increase buyer readiness, engagement, and sales activity. These findings are reinforced by sales data from MyBuys' database of some 250 million shoppers: Customer-centric marketing delivers a 25% increase in total online sales and a 300% improvement in customer lifetime value, according to the company.
Guitar Center, the world's largest retailer of musical instruments, not only understands the value of personalized customer service and engagement marketing, they've actually won the "Customer Engagement Award" from Retail TouchPoints, for embracing customer engagement and implementing solutions and services that are actively getting customers involved in their own experience and buying process, while improving their bottom line.
In addition to allowing customers total access to all instruments in the store, the ability to interact with industry professionals, and a chance to take their amateur talents to the next level, the company also endeavored to improve the in-store customer experience even more by introducing "Find an Expert" profile pages. On these web pages customers can search for employee/experts online by location and store to develop dialogs and working relationships with these Guitar Center, (GC), experts based on similar musical tastes and interests. Customers can regularly engage with GC experts via email, through their blogs, and in-store. Additionally, in 2012 the company introduced a Music Mentor Series, an unprecedented company-wide platform that gives customers the ability to advance and enhance their musical pursuits, right in their own communities. Activities for the Music Mentor series included free music lessons.
Key Takeaways:
• Differentiate your company by providing personalized experiences, communications, and offers.
• Provide clear ways of showing customers that you're listening to their feedback and creating personalized experiences. This will reinforce ongoing participation by customers.
• Personalized follow-up emails that detail items or events specific to the customers' interests and buying history are value-added triggers that are welcomed by customers.

Want to read more insider-perspective posts? Browse our entire archive of industry insights from our contributors, a group of software and technology experts, by visiting the Industry Insights section of the Business-Software.com blog.