5 Financial Reasons to Move Your ERP System to the Cloud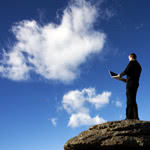 There are operational, IT, and financial reasons to move your ERP system to the cloud. These are some of the most compelling financial reasons for a hosted ERP system that is licensed as SaaS:
Pay for what you use – You only pay for the licensing and IT resources you use. There are few fixed expenses. If you are in a growth cycle or you are on a declining cycle, your system right-sizes with you. If you're in a seasonal business, you can change your system usage and fees to match the natural rhythm of your business. You can also add or subtract functionality as required.
Accelerate time to value – For a new system implementation you get to a positive return on your investment much faster because of these factors:
There is no equipment to specify or acquire
The setup time for equipment and software is greatly reduced
Implementations generally go faster because the implementers are more familiar with the hosted environment and can have access to it form anywhere
The upfront investment is lower because there is no equipment to buy or upfront software purchases
Minimize or eliminate additional IT resources – Because most of the IT responsibility for an ERP system is outsourced in a hosted system, an ERP-focused IT resource is not required. Also the minimal footprint required for a web client greatly reduces the amount of local work station management required to keep everything running smoothly.
No additional costs for upgrades – Most SAAS solutions include software version upgrades, including service packs and hot fixes. These system modifications are generally performed during off hours and do not effect user access to the system. Version upgrades include a test upgrade accompanied by user acceptance before the new version is put into production.
Newest version of software for users – Because hosted ERP systems are regularly upgraded to the newest version, you can expect that your users will welcome new functionality and performance, and as a result will become more productive.
If you want to avoid huge, upfront investments in software and equipment, and you want to rid yourself of most of the headaches of running an ERP system, you should strongly consider moving your ERP system to the cloud.
Want more information on ERP software? Discover and learn more about enterprise resource planning software by exploring blog posts, white papers and more at our ERP research center. For comparisons of the best ERP solutions on the market, download Business-Software.com's Top 20 ERP Software report.