Let's Talk Act-On: Behind the Software Q&A with CMO Atri Chatterjee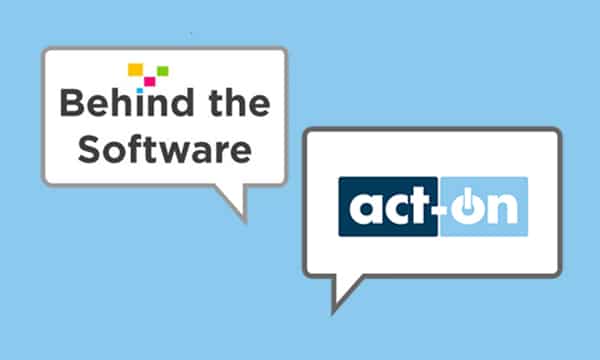 Traditionally, marketing software has trapped customers with inflexible year-long contracts. But marketing vendor Act-On is disturbing the status quo by offering its clients both month-to-month and year-long contracts to utilize the company's versatile SaaS platform. During our Q&A with Atri Chatterjee, Act-On's Chief Marketing Officer, about what makes Act-On a great fit for smaller teams and businesses, the company's unique payment options and their commitment to assisting customers with the complete marketing lifecycle.
Why was Act-On founded? What void in the marketing software space did you see?
About the Company


WEBSITE: www.act-on.com
LAUNCHED: 2008
LOCATION: Beaverton, Oregon
CUSTOMERS: Progressive, Swarovski, LEGO Education, MedQuest Pharmacy
We're probably one of the youngest companies in the space; we were founded in 2008. But a lot of us on the Act-On team had been involved in online marketing for a while; we started [an email marketing company] called Responsys that was founded in 1998. So we have a lot of familiarity with the marketing space, and we saw a real opportunity where there was a gap that needed addressing.
On the one hand you had email service providers like ExactTarget and Constant Contact and Responsys who were very successful because they enabled people to do ecommerce. But for the business side there wasn't necessarily a solution that offered the same level of capabilities. You had these early marketing automation solutions, but they all seemed very complicated and none of them were really aimed at the marketer. They were quite complicated products with a lot of intricacy, set-up and customization that required IT people. We saw there was a need for a product that would be powerful and simple, but aimed at the marketer. And, by virtue of that, be available to companies of all sizes rather than only being available to companies that could afford people for set-up and IT support.
What was missing was some way to take all of these companies who were doing email marketing and help them do multi-channel marketing, which was becoming more and more important as the buying process was changing on the internet. It was not just about email, but also about being able to look at multiple channels like social and inbound and content marketing, and factor search optimization into that mix. We saw the need for a product that would address those things as well as be aimed at the marketer [as the primary user].
Modern marketing platforms are all about simplifying outreach and engagement processes – how does Act-On address these needs?
The real proof of a pudding is in its eating, right? It's about how quickly customers are benefiting from the solution. Everyone talks about being simple, but I think the proof of that is how quickly customers get up and running and how quickly they become successful with a platform.
With Act-On, a typical customer will be up and running in a day. Customers signing up with us can start their first campaign within a day, and typically they'll see a return on investment within the first month. We talk about simplicity, and the way we prove it is in the way customers can use the product quickly.
Where the rubber meets the road is that a customer can get up and running and can start doing their first few campaigns within that first day. Then, over a period of time they get to learn more about the system and they can do more sophisticated things like lead nurturing and scoring and automated drip marketing programs.
What are some of your platform's standout features?
One thing that makes Act-On very appealing is how we present the product, which enables the user to get more sophisticated over a period of time as they use the product more. We often refer to this as similar to peeling an onion: you go through different layers and as you get more proficient and more familiar with it, you can explore the product in more detail.
We keep expanding into new things, and one of the areas [we're working on] is search engine optimization capability. We have a capability inside our product that lets you run a report on your website (or multiple pages on your website) to give you a sense of how well your website is doing and suggestions on how to improve it. You want to see how many of those people clicked, how many of them became a lead, how many of those leads were actually good leads and how they all closed.

This way you get a much better sense of how much of the money you're spending on Google actually results in customers. And you can see your entire Google AdWords dashboard within Act-On.
Another thing we do at Act-On that is quite different is every customer has a designated customer success manager. We couldn't create a company that gives people the option of a month-to-month contract without focusing on making those people successful. We made that decision early on that support must be important. When you subscribe to the Act-On platform, you don't have to pay extra for support. Not only is support included, but you get a designated customer success manager. You get your own Sherpa to help you. But the Sherpa doesn't take you on his or her back and climb up the mountain – that would not be mountaineering. The Sherpa helps you get started, and then pretty soon you don't need the Sherpa's help anymore, because you learn how to do your own campaigns. That's an important part of what we do that really enables us to run this business the way we run it and enables customers to be successful.
We've also got a forum inside the application where customers can send in feedback on how to improve the product, which is visible to every other customer. And, if you see a feature request put in by another customer and decide you need that too, you can vote on it. My product marketing group looks at that forum on a regular basis and we have a running list of the top 100 things that people have requested. There's this transparency between us and our customers, and they're able to get a sense of how they belong to the whole environment.
Act-On is cloud-based, a feature that as we know tends to attract small businesses for its flexibility and affordability. Did Act-On develop the platform on the cloud with the intent to cater to smaller teams and companies?
Our Act-On developers are the same people who developed Responsys, which was the first cloud-based email platform, though back then it was known as an application service provider. So we have a lot of experience with the cloud, and there was no question in our minds that the only way to develop a solution was as a cloud solution. Raghu Raghavan, who is the CEO and founder of the company, gave a challenge to the engineering team when they were building Act-On. He said, "we've got to make this platform 10 times more powerful than what we did at Responsys at one-tenth the cost," and essentially that's what we've done.
I would say our cloud infrastructure is more sophisticated than many of the companies that are a lot larger than us and probably sell to IT departments. The reason for that is our system never goes down. We've built a cloud infrastructure with hundreds of servers and the whole platform environment, but where we can update the system while you're still logged in and can continue to do your work.
You offer a month-by-month contract, while many of your competitors require year-long contracts. Why did Act-On decide to go with a different pricing model, and how does it benefit your customers?
Why do we go with month-to-month pricing? The answer is because we can. We are so confident that people will get up and running quickly, we put our money where our mouths are

and say, if you don't see value from this in the first month you can cancel. We have 30 days to make a customer successful, or they can fire us.
[This business model] also gives people a lot of reassurance. It says, here's a company who's willing to tell me that I can get started on a month-to-month contract, and if I don't like it I can leave. But our experience has been that more than 90 percent of the customers don't leave. They appreciate the fact that we give them flexibility. We don't hide that we have month-to-month contract options.
We also have a pricing option that says if you're willing to sign up for 12 months, we'll give you a discount for doing that. Sometimes it's advantageous to make that year-long commitment to make sure the finance department doesn't cut your budget three months down the line. But we give our customers that choice.
Speaking of customers, how would you describe your ideal client?
Our new clients are typically marketers, not IT people. We go after the marketers who are actually doing the job. Our slogan is "we'll make you a better marketer." Marketers who are interested in quick execution and want to do things differently are good candidates for us, because they want to use a system like ours and be able to experiment with it.
A typical client would be a small to midsize company, as well as a smaller team inside a larger company. The way we talk about it is it's not just small businesses, it's small marketing teams. We see this combination where it appeals to smaller midsize businesses, but it also, not surprisingly, appeals to small marketing teams in larger companies who want to be nimble.
Our clients are also not tied to any particular industry. Unlike some of our competitors, where 70 to 80 percent of their customers are technology companies, in our case almost 75 percent of our customers are not technology companies. They are companies that are in manufacturing, health care, or business services like accounting firms, law firms and consulting firms. They're not your traditional hardware, software, technology, telecommunication types of companies. That gives you a sense of the sort of diversity of customers that we work with.
Your platform includes a number of tools to help businesses leverage social media. Can you tell us more about these functions and why Act-On felt social was an important area to address in a marketing platform?
What's happened in the world today is that the number of channels we have online has increased dramatically. Social is not a single channel, it's a category of channels, and you see quite a bit of variation between certain social channels. But we know that a marketer wants to be able to create a campaign once, deploy it across multiple channels and then measure how each of those channels have done.
Say a client wants to do a survey and wants to use this as not only as communication tool but also as a demand generation tool. With Act-On you can create a survey, send it out in email, put it on multiple sites and put it out as a Google ad, but also put it on your different social channels.
The second thing

that we do is we have certain tools specific to various channels. In the case of Twitter, the concept of listening to what's happening in real time is very important. We've got something called the Twitter Prospector; it's a listening capability that lets you respond and engage on a one-to-one basis.
Our system also enables you to segment based on not only demographics but also behavior so that you can more intelligently interact with people. Marketing is not a one-time, one-and-done type of interaction – it's a dialogue. Act-On has this ability to create a campaign that has multiple stages, where different stages have different things that you want to do with specific groups of people.
Take the example of a webinar: If you set up a webinar, you want to invite people and remind them to come. Once you do the webinar, you want to know who came and who didn't; you want to communicate with the people who attended differently from the people who didn't come. And if there were people who dropped off early, you want to be able to interact with them slightly differently from those who stayed for the entire process.
What if you get a note from me saying, Hey, you came to the webinar but I noticed that you had to drop off 20 minutes early so you missed the special promotion but I want to give it to you here? I think you'd probably be more inclined to look at how I paid attention to the fact that you had to drop off early and here's something that you missed, versus a generic email saying thank you for coming and click on this. It's a very simple example, but it shows you all the different nuances that you have in a communication mechanism.
What new features can readers expect from Act-On in the coming months?
As we go forward, we see several areas that are really important for us. We see marketing as much more than just bringing in prospects and making them customers. We really see marketing as playing a pivotal role throughout the entire customer lifecycle. Marketing is not just important in acquiring a customer, but it's also about retaining a customer, making them a loyal customer and then expanding a customer so that that particular customer buys more from you or becomes more engaged with you.
If you think about it from a standpoint of how marketers work in the physical world, marketers have a role to play throughout that entire lifecycle. How does a system like ours enable a marketer to participate in that lifecycle, do programs during that entire lifecycle, measure those programs, and understand where they're doing well and where they're not doing well? The industry does a pretty good job on that first part, bringing someone into the funnel and trying to convert them from a lead into a customer. But what about the second half of it? That's a general area you'll see us doing a lot more of in terms of the way we enable people to create certain campaigns for existing customers, to measure loyalty and build loyalty among existing customers, and of course to make those customers more valuable customers.
We look at the different stages as being categorized into three buckets: acquisition, retention and expansion. We do a lot of work on the acquisition side, but we as an industry don't do enough on the retention and expansion site. At Act-On, we're focusing more and more on how we can provide marketers with the ability to do and measure more on the second two components.
Looking at the marketing industry as a whole, have you noticed any trends that users should be aware of?
I think there are some big mega-trends that are happening in the marketing industry. One is that the line of the business marketer is changing; they're taking control of spending more to make their marketing efforts more effective. There's a shift going on where the line of business is becoming more active in how they try to make their departments and their businesses more effective.
The second one, which is important in the whole marketing environment right now, is the transition from pure brand-building into more measurable, accountable marketing. The concept of doing marketing programs and having only a very general sense of how they performed is going away.
I think there's also a shift now in the mentality of marketers. Those who will be more successful going forward are more exacting, more quantitative; they like to measure the results and try to attribute cause and effect. Marketers will spend more time doing the type of inquiry process that asks how to do these multichannel campaigns, how to measure them, what channels are doing better than others and why are they doing better than others. Marketers who are going to be more successful in the future will be those who can measure and understand the results, and more effectively target and improve their performance based on the results. And that's easier said than done. How does a system like ours help someone to do that, and how do we do it in a simple fashion? We try to simplify [these processes] and make it easy for people to become better marketers.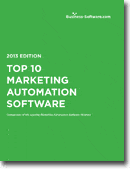 Looking for more information on marketing software platforms? Compare leading marketing automation suites and other task-specific marketing tools by downloading one of our free marketing software comparison reports. You can also browse exclusive Business-Software.com resources on marketing solutions by visiting our Marketing Software research center page.