Bizo Improves Ad Relevance and Targeting for B2B Marketing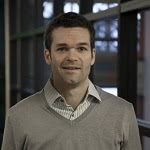 While marketing spending continues to skyrocket, most software providers focus their efforts on solutions for the B2C space. Bizo, however, focuses on helping B2B marketers be more successful. Founded in '08, the company's products are being used by over 600 name brands including American Express, Microsoft, and Verizon. We sat down with VP of Products Chris Mann to discuss the market opportunity and challenges of online advertising as well as the developments marketers need to know about in the coming years.
About the Company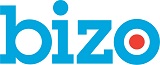 WEBSITE: www.bizo.com
FOUNDED: 2008
LOCATION: San Francisco
CUSTOMERS: Lenovo, Microsoft, Verizon, UPS, American Express
What is Bizo's mission?
The mission is to help marketers reach business professionals online. We do that in a number of ways, mainly through display advertisement and social media. We wrap a lot of analytics around those two things as well. We help marketers fully reach, engage, and educate their audience and drive their target market through a complete sales cycle.
How were you founded?
Russ Glass, our CEO and founder, was a product leader at ZoomInfo back in '07, and he saw what was happening in the online ad space, particularly in consumer segments like auto and retail. There was a lot of data being put out – especially cookies – to help advertisers precisely target consumers. But there wasn't anything comparable for business professionals or B2B marketers. So Russ saw an opportunity there and spun Bizo out of ZoomInfo.
What do you do differently?
The market opportunity for online advertising for B2B is around 30% of the total online ad space. Almost everybody else is completely focused on the consumer segment. Most customers think of us as a kind of LinkedIn, where businesses can reach a very targeted audience. What we end up doing is, instead of competing with LinkedIn, we're now a LinkedIn ads API partner. So marketers who are using Bizo can reach business professionals wherever they are on-line. We have our own network of over 4,000 business publishing websites where we can run display ads. We're integrated into all of the major display ad exchanges. We can run campaigns on LinkedIn. We can target Bizo data on Facebook, and we're doing some things with link shortening and display ads on Twitter.
We have over 100 million anonymous cookies that try to describe what people do for a living: company size, industry type, functional roles, etc. That data runs on all the properties I talked about except LinkedIn, where we target LinkedIn data instead. That's the fuel that drives all the programs that we run for our clients.
How is Bizo set up: where are your offices and teams located?
Our headquarters are in San Francisco, as well as about 50% of our employees. We have about 90 employees right now. We have an office in New York and we have a few people sprinkled around the US. We can serve the UK and Canada as well, but we don't have data in any other geographies yet. There's a ton of opportunity in the geographies we currently serve and plenty of areas for innovation. At the same time, we're constantly evaluating when we'll go into EMEA and Asia-Pacific.
What does your ideal customer look like?
60 to 70% of the top 100 B2B marketers have used at least one of Bizo's services at some point. So if you think of all the big names like American Express, Lenovo, Microsoft, and HP – all these companies have run or continue to run campaigns with us. The ideal client is one who truly wants to reach a business professional audience and move them through their sales funnel. We also have a self-service platform that allows companies of any size to work with us. The bulk of our revenues today comes from companies that have $50M+ annual revenues; however, our self-service platform is growing very quickly and we expect it to become a bigger part of our business over time.
In terms of industries, we have a lot of telco, finance, business services, HR, and high-tech customers. We have over 260 segments in our taxonomy. We can build custom segments to target a vast array of unique business audiences so we've been successful across many industry verticals.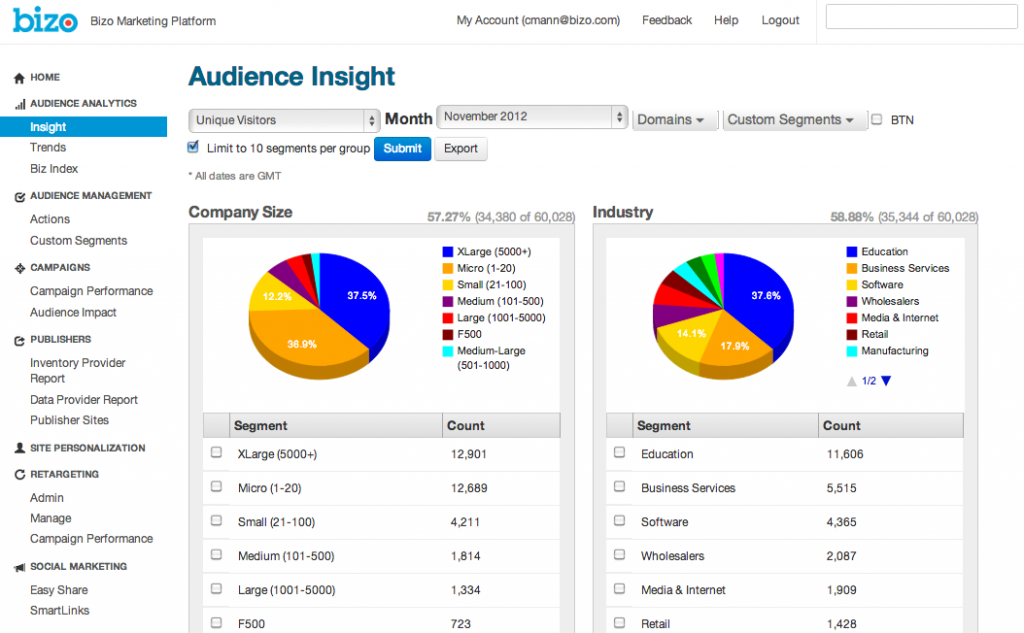 Where do you find customers? What do your average sales look like?
We're a very big user of our own advertising capabilities. We're constantly advertising on our display network and on our broader ad exchange, as well as on Facebook, LinkedIn and Twitter. We make heavy use of site retargeting. All leads are captured in our marketing automation system. We then nurture those leads via email campaigns and display ads and pass them to Sales. We have a bleeding edge marketing backbone powered by Bizo, Eloqua, and Salesforce.
B2B sales cycles vary. Our sales force makes up about half of our company. Our reps are calling directly into marketers and CMOs. When working with larger customers there is generally an agency involved.  We're very well known in the ad space, so agencies will often come directly to us. In those cases, sales can happen in a couple of days. In other cases sales cycles can be longer.
Where do you feel online advertising is headed? Where do you see it in 5 years?
Total online display ad spend – depending on who you look at – is estimated to grow at 9% a cumulative average growth rate over the next several years.  For B2B on line advertising we estimate  a $5B opportunity in the US for 2013
At the highest level online advertising programs are designed to educate a target market such that when a prospect is ready to move into a sales cycle they do it with your brand. As prospects move into a sales cycle – today more than ever before – they are reading your website, downloading marketing materials, etc. – and not reaching out to a sales rep.  Advertising becomes a virtual sales rep in a way. The advertising message should change from creating brand awareness to displaying ads specific to the products and services the individual prospect has been researching. You have to know where your prospects are in the buying cycle – it's all about delivering the right message at the right time. B2B sales cycles are high consideration, are long and usually involve a group of decision makers.  This requires a different approach.
To accomplish this right-message-right-time and automated online "sales conversation" to take place, over the next several years you are going to see deep integration between display advertising, the marketers' technology stack (particularly marketing automation tools) and social media platforms. This will empower the marketing manager to quickly and easily orchestrate and fully measure brand building and lead nurturing programs that support the entire sales cycle – from brand building to lead nurturing to close – across multiple channels including email, display and social. Bizo's role – and we're well under way – is to build all of this and surround it with a comprehensive data set to allow precise audience targeting.
What is the most exciting thing about Bizo?
I'm having a hard time sleeping because there are so many fun things happening. Our culture is unique, and everybody recognizes the opportunity at hand. We're innovators. Our team consists of bright, highly analytical B2B marketing experts. We can roll out new products and scale our services very effectively. As a product guy, I feel energized by a team like that. It doesn't happen every day that you're surrounded by this many A-players.
Who do you think is the most interesting company in the market right now and why?
I think Twitter is a very unique and powerful platform, particularly when it comes to advertising. The 140 characters works as well on a desktop as it does on mobile. The targeting capabilities Twitter is building into their platform are improving rapidly. We're doing some cool things to integrate Twitter with display ads. If you share an article on Twitter and your audience clicks on it, we can earmark them for retargeting which then triggers display ads on other websites. It's very early on and not a ton of marketers really understand Twitter yet, but I think we'll see a lot of development in this area in the coming year.