The Case for Google's Universal Analytics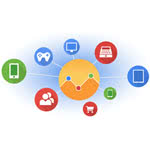 By Amy Ard
Earlier this year, Universal Analytics (UA) was released to the public and is now available to all Google Analytics customers. This immediately conjures up several questions – what exactly is UA bringing to the table? Can I migrate my existing Analytics properties over to UA? What is involved in implementation?
Let's start with this–UA eases the process of data collection, customization, and configuration within the Google Analytics interface. Moreover, it works to identify a user across multiple devices, allows for the integration of offline data and even opens up the world of mobile application performance.
Getting Started
In order to begin using UA, simply select the option to create a new 'property' within your Google Analytics account. Here is where you will be given the option to select your tracking method (Universal or Classic Analytics) and will then be provided with the corresponding tracking code snippet.
Once you have implemented the new UA code on your website, you can begin collecting data within the new property. There is no need to alter your existing 'classic' implementation or web property within the Google Analytics interface. In fact, you will want to leave this 'as is' in order to access any historical data (analytics tracking for your legacy and UA implementation can run together without any interference).
While migration from your existing property is not yet offered, Google has plans to make this option available down the line. If you'd like to incorporate user interaction via Google's event tracking within your new UA property, keep in mind that there are some changes within the event coding as well. For example, the commands for event tracking have changed slightly while the syntax and required parameters remain the same.
Universal Analytics Noteworthy Benefits
UA is intended to be, well, universal. It is designed to be compatible across multiple devices and platforms. After much anticipation, tracking of your mobile app is now available with UA! With Mobile App Analytics in place, application performance data can be directly integrated into your Google Analytics account. These reporting features include:
Volume of application installations
Devices and networks used to access the application
Geographic location and languages spoken by visitors
In-app purchase totals
Customized tracking of special content, such as video
Number of screens seen per visit; order in which visitors move through these screens
In addition to application reporting features, UA now allows you to import offline data into your Analytics account. Having the ability to integrate offline sales with online user interaction provides for a more in-depth understanding of customer behavior from all aspects. This makes way for enhanced optimization of paid media initiatives from all points of the customer's journey, not just from a digital perspective.
Not all details have been unveiled as to what UA will eventually offer, as it is only available in beta at this time. Additionally, it does not yet support AdSense, DoubleClick, Content Experiments, and Remarketing. While UA is still a developing technology, it is giant leap for Google in moving towards the collective or "universal" picture as many analytics platforms have made the attempt to do.
[This post originally appeared on Asking Smarter Questions and is republished with permission.]