"Cloudy" Document Management Forecast for SMBs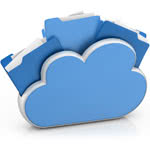 In case you haven't noticed, it's been a bit cloudy lately. And the forecast is getting even more so. That's because cloud-based platforms are becoming increasingly important to small businesses–especially in the document management space.
Cloud is all about service–it's really the next stage of the Internet's evolution. In the business world, the technology powers everything from computing and applications to business processes–all delivered as a service. Basically, pay only for what you use.
In terms of content management, the benefits focus on enhanced productivity, better security and lower CapEx costs. The stakes are even higher for the small and medium-sized business (SMB). While small businesses may not face the sheer volume of information as a typical enterprise, efficient management of critical documents is even more important because these companies do not have large staff members or the luxury of time to locate files if they are not readily available.
Unfortunately, many SMBs are still relying on outdated document management systems from a generation ago. For example on-premise software which is often costly and cumbersome for SMBs to manage. These systems usually require a considerable investment in staff and IT hardware to facilitate.
On the other hand, cloud-based systems give small businesses access to high-powered applications previously out of reach due to their cost and complexity. Simply put: there's no infrastructure to manage, no hardware to purchase and no software to configure. Aligning document management with the benefits of the cloud means information is instantly shared wherever there's Internet access.
In addition, cloud-based services also provide business continuity because critical information is securely stored away and protected from natural and man-made disasters. Which in the case of a small business, brings the added ability to quickly resume operations soon after business disruption.
When considering cloud-based document management, SMBs need to look for:
An intuitive method for filing and retrieval of any information. The solution should allow documents to be searched by contact names as well as folders and key words, while bringing powerful Content Resource Management (CRM) functionality and tagged descriptions to further accelerate quick sorting of documents.
Advanced scanning solutions such as barcoding, zonal Optical Character Recognition (OCR) as well as mobile and front-end methods to help businesses streamline paper-filing and transition any document into digital format.
Ability to eliminate security complications associated with cloud-based document management via geo-replication and redundancy, user and departmental security permissions as well as full document audit reporting.
Perhaps one of the biggest considerations when looking at these systems is: Who really owns your information? There are popular cloud-based document storage options on the market that hold their customers "hostage" by making it difficult for them to leave. It's essential to partner with a vendor that offers decryption of documents and will download them to a hard drive upon request. Just because your documents are in the cloud doesn't mean you can't have full access to your data vault if termination of services is warranted.
The forecast is getting cloudy–and today's small- and medium-sized businesses are at the center of the storm. To drive efficiency and cut costs, document management must beat the very epicenter of these organizations. Cloud platforms take this one step further, eliminating cost and complexity from the equation.
So remove the sunglasses and take a closer look at cloud-based document management–it could provide the silver lining your business files need.
Download the Top 10 Document Management report for a side-by-side comparison of document management solutions. Check out the Content Management resource center page for more articles and blogposts on document management and more.