Disruptive Innovations That Can Kill the Telecom Industry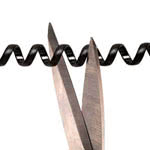 For years operators have paid billions for spectrum. Millions of man-years have been spent on building standards like GSM, GPRS, CDMA, 3G, LTE, etc. Can disruptive innovation kill this in a few years?
Yes, it can. The FCC is finding out that large parts of the USA are still not covered by mobile broadband. After years of lobbying by groups like the New American Foundation, the FCC has finally decided to start with White Spaces. White Spaces are also being rolled out in the UK. White Spaces allows spectrum to be opened for public usage, which was previously used by analog television or to separate different adjacent channels. White Spaces have been referred to as "WiFi on Steroids."
Another disruptive technology is software-radio networks in which mobile devices use software-driven radio technology instead of hardware-driven radio technology. This allows a mobile device to be compatible with different standards and to switch and evolve quickly. Putting software-radio in a mobile phone will make it possible to use dynamic white spaces, in-door networks, etc.
A final disruptive technology is Openflow. Openflow, is part of software-driven networks, in which routers, bridges, firewalls, loadbalancers, etc. are implemented on software-level. Networks can be virtualized and used with different QoS and configurations at the same time.
Google and Microsoft are major backers of the White Spaces initiative. They also control two important mobile operating systems. Google is also running pilots with fiber-to-the-home. Google has its own routers and other network technology.
Google could easily be the first White Space operator and use a Fon-like way to roll out their network.
Killing ARPU
SMS is already death, and it will be just a matter of months before operators will see deep dives in revenue. Apple could make the iMessage protocol public and Android could come with a standard iMessage-enabled solution and people would no longer send SMSes but would not even realize it.
Next one on the list are calls. Roaming is already seriously being challenged for years by Skype and others. Operators are planning for VoLTE, or voice over LTE, only by 2013-2014. However most will start rolling out LTE in 2012. This is the ideal situation for Voxtrot, and others, to use the vacuum to get people accustomed to free calls. By the time VoLTE will be available there might just be one market price for it: FREE.
Other value-added services, are already being substituted. MMS is called Twitter & Facebook mobile app now. PBX are now on the Cloud. Call centers are now offered as a service.
Killing ROI
Operators are pushed by the market to invest in LTE roll-outs. However why would you need LTE? There is not a single operator service at this moment that will make people queue up in front of their stores to get an LTE subscription. There are a million and one reasons in the form of mobile apps, mobile video streaming, social networks, HD Video-calls, etc. that can push customers towards the over-the-top-players.
So network investment is only going to rise and revenues from the new technologies will be meager at best, if not cannibalizing high-ARPU services.
With Mega Upload and other sharing sites being disabled, illegal file-sharing is not going to go away. P2P is likely to come back with a vengeance. It is easy to shut down large sites. However what if special encrypted P2P apps are used to distribute the location of content and botnets for distribution. There are a lot of computers that are connected to the Internet but are badly secured. Instead of using them for spamming, Mega Upload 2.0 services can use them to store and distribute content. As long as these "hacked" computers use HTTP(S), it will be very hard for operators to distinguish regular do-it-your-self websites from illegal content hubs.
Killing the operator's established business model
Operators have educated subscribers that everything that comes from them has to be paid for. Disruptive operators like Free.fr are undoing this education by giving a lot of services for free when you pay the monthly subscription fee.
The Freemium business model is likely to find its way into the telecom industry. The model in which 90-98 percent of the users get the service for free and 2-10 percent generate the revenue by purchasing premium services. Combined with advertisement, this is the model of big successes like Zynga, Linkedin, etc. Disruptive players that adopt Freemium are likely to start offering services outside of their country borders since the more people participate, the better. With a winner-takes-it-all business model expect roll-outs to be very aggressive.
What can the telecom industry do?
The first thing operators should do it to tell their providers that their top problem is the lack of new revenues that will sustain the industry. Not LTE roll-outs, not fiber-to-the-home, not customer experience management, etc.
Telling telecom providers that new revenue solutions will be a top priority for 2012 will shift R&D budgets into the right direction.
The second thing operators should do is to stop using their existing purchasing techniques to try to generate new revenues. Nobody will be able to invest 5 months into an innovative solution, spend 3 months doing business development, pass 3 months on filling out RFIs, pass another 4 months filling out RFPs, 2 months on contract negotiations and 6-8 months on delivery. The industry can not wait 2 years to launch the first solution. Especially the herding nature of operators is making any introduction of new innovative services difficult because everybody wants a market leading solution but nobody is willing to be the early adopter.
The response should be different. Joint innovation teams that are able to break the "established rules;" that are able to launch "beta-quality" services to early adopters; that are able to innovate with both technology, business model and go-to-market strategy, etc. Operators should be embracing innovation and learn from the IT industry and even better the dotcom industry on how innovation is done quickly, efficiently and successfully.
[This post originally appeared on Telruptive and is republished with permission.]