Dreamforce 2013: 4 Expo Floor Must Sees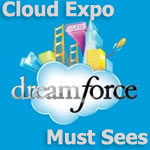 Dreamforce is one of the biggest marketing and promotional events in the world of enterprise technology, and it's not just for Salesforce itself.
Every year at Dreamforce, Dreamforce 2013 included, the Expo floor becomes a sprawling showcase for dozens of companies with some kind of affiliation with Salesforce. For many of the smaller guys it's a golden opportunity to engage in the sort of face-to-face networking and pitching that they would otherwise have limited, if any, access to.
One of our favorite things about Dreamforce is the ability to meet up with these companies and find out about what they're up to and the kinds of technologies being worked on at the fringes of Salesforce's vast network of partners and associates. To that end we've put together a spotlight on a few of the highlights we're checking out on the Expo floor this year.
The Companies
Woopra


Segment: BI
Booth: N1128
Why We Like Them: Woopra seems to be one of the companies whose core concept hews quite close to the Dreamforce 2013 theme of "becoming a customer company". The Woopra solution fuses pieces of CRM, BI and ecommerce together to create real-time activity profiles of everything individual customers/visitors have done on your site or application. On top of that it provides reports on your sales pipeline and customer retention and conversions.
TinderBox


Segment: Contract Management/Sales Force Automation
Booth: N2222
Why We Like Them: A lot of the best business software solutions out there take monotonous, uninspiring tasks and stick them under a layer of automation, letting team members allocate their time and effort to more important jobs. TinderBox does that for not just one, but three departments, providing content management for Marketing, workflow management for Sales and contract management for
ScanBizCards


Segment: Document Management
Booth: N1016
We We Like Them: Sometimes the best ideas are the simplest. At events like Dreamforce the chances are you're going to amass a lot of business cards, but not everyone's is going to have a handy QR code or RFID for easy importation into your digital records. ScanBizCards addresses that gap with a mobile app that automatically scans cards and imports relevant data to your address book complete with cloud backup. Super simple, super handy.
Uberconference


Segment: Web Conferencing
Booth: N2221
Why We Like Them: There are a lot of free conference call solutions out there, but we're intrigued by Uberconference's charming UI and design aesthetic as well as automation features like automatically calling participants when a conference reaches its scheduled start time.
Where to Check Them Out
Dreamforce 2013 is going to be the biggest Dreamforce ever in terms of attendees (120,000+) so getting around to seeing every company you want to check out might be a bit of a challenge. To help out, here's a map of the Expo floor marked with the booth locations of the companies mentioned in this post. Happy hunting!