8 Apps to Make The Most of Your Business Trip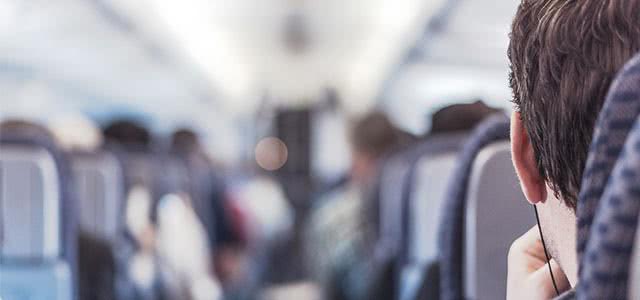 All featured apps are free in the Apple App store and are compatible with iPhone, iPad and iPod Touch.
Americans took 455 million business trips in 2015 and 37.9% were for events and meetings. Some people dread the idea of traveling for work, but why does business travel have to feel like such a chore? Business trips provide the opportunity to improve skills, build relationships and ultimately grow as a person. Even though the purpose of the trip is to be an agent for your company, being productive and efficient while simultaneously travelling the world, experiencing new cultures and trying exotic foods is now more feasible with the abundance of new apps.
These helpful apps will give you the tools to stay professional, organized, healthy and happy on your business trip.
Organization
TripIt

Business trips can be stressful enough if you're preoccupied with giving a presentation, impressing your boss at a meeting or making an important sale. The last thing any professional needs when travelling to a foreign place is to be worried about flight times and confirmation numbers.
TripIt generates a personal travel itinerary based on your own confirmation emails from booking hotels, flights, rental cars, restaurant reservations etc. It also provides maps and directions to all of your booked destinations and syncs your plans with Apple, Outlook and Google calendar. You can access your itinerary on any device including smartphones, tablets, computers or wearables.
Concur

Was it the cab ride from the meeting that was $42.00 or last night's bar tab for that celebratory round of drinks after closing the deal? Differentiating between your business expenses and personal expenses while abroad can result in shuffling through paper receipts and wasting time trying to remember how much you spent and where.
Concur tracks and organizes all business expenses and receipts. You simply have to snap a photo of each receipt to create your digital log or use the Quick Expense feature. This allows the user to submit or approve expense reports or travel requests and itemize hotel charges. The app can also be integrated with TripIt to manage your itinerary.
Google Drive

Sharing and editing work-related documents away from the office can be crucial to success and productivity. Google Drive lets you access all of your files in one location on your mobile devices and computers. Drive enables users to view documents, PDFs, photos, videos, slides and more—  with the ability to edit and share on-the-go instantly and without having to click and save. These features aid in team collaboration and communication, regardless of location relative to one another.
Handshake

Business trips are often used for pitching sales and closing deals. Many sales representatives find themselves traveling from point A to point B. They need to be able to present unique and individualized catalogs and deals for their potential customers and report that information back to the company.
Not only is the app a great tool for presenting and editing catalogs, but it also delivers sales orders remotely and automatically sends sales reports back to your company for analysis and processing. SDRs can view previous orders, accounts, client info, current inventories and can integrate data with Excel, Quickbooks and other business tools. Handshake is available in several languages and is helpful for international business travelers who need multi-currency support.  
Health and Well-Being
Travwell

Factors influencing individual performance are not always related to company matters on business trips. Weather, culture and time change can all affect your well-being, both positively and negatively.  
When traveling to more exotic places you can potentially be exposed to a variety of diseases such as yellow fever and typhoid fever. There are so many vaccinations for so many diseases— how do you know which ones you need? Travwell is an app developed by the CDC that gives you vaccination recommendations based on your specific destination. It also includes features such as customizable packing lists and emergency services contact information also based on your given destination.
Map my Run

Regular exercise has several health benefits and can even help you excel at work. It elevates mood, relieves stress, aids in sleep and improves your memory and learning skills. But exercising on a trip can be a difficult task. Some hotels may not have gyms and running in an unfamiliar area could be intimidating.
Luckily, Map my Run uses the built-in GPS on your phone to show your location, find new places to run, save your previous path and share all of your workouts on social media. It also lets you track your distance, pace, duration, calorie burn etc. Map my Run essentially allows you to combine your exercise with touring and exploring new places.
Pzizz

Jet lag and a change of environment can have adverse affects on your sleep quality. Sleep deprivation is responsible for attention deficits, mood changes and slower reaction times. Being sharp, refreshed and well-rested is key in making the most of your business trip.
Pzizz is an app that helps you fall asleep faster and improves your sleep quality by playing unique combinations of relaxing sounds, voice cues and soothing music. You can customize it by adjusting the volume, duration and selecting which features you wish to use to ease you in to a blissful sleep.
Leisure
Like a Local

Even successful business people need a little fun and socialization. Like a Local is great for frequent travelers or people who prefer to find local gems and avoid the tourist traps. The mobile app finds spots like restaurants and bars where locals choose to spend their time. The Smart Stream feature has real-time capabilities that show you open places nearby based on your current location.
It features categories such as See and Do, Eating, Nightlife, Shopping etc. Like a Local currently has guides for New York, Munich, Paris, Berlin and several more. The city guides are $1.99 and can be found on the app store.
Will you be using any of these apps on your next business trip or summer getaway? Let us know on our Twitter and Facebook pages!
[Image courtesy of gratisography.com]